Storing favorites
Up to 30 favorites can be stored in the favorites list. Available favorites are artist, track, game, league, and team.
Storing the artist, track, or game
It is only possible to store favorites that are currently being broadcast. The channel information must be available.
1. "Radio".
2. "Satellite radio".
3. If necessary, open "All channels" or the desired category.
4. Select the desired channel.
5. Press the controller again.
6. Select the artist, track, or game.
Storing the league or team
Leagues or teams can be added to the favorites from a selection list.
1. "Radio".
2. "Satellite radio".
3. "Manage favorites".
4. "Add sports information"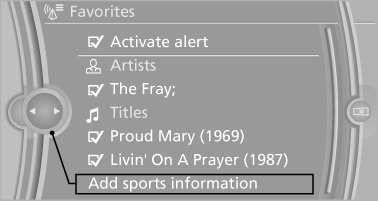 5. Select the league.
6. Select "Add all teams" or the desired team.
See also:
Cupholders
Notes Shatter-proof containers and no hot drinks Use light and shatter-proof containers and do not transport hot drinks. Otherwise, there is the increased danger of injury in an accident.◄ ...
Software update
The vehicle supports various external devices, depending on the software it is currently using. A software update can enable the vehicle to support new mobile phones or new external devices, for e ...
Opening the favorites
If an activated favorite is played back, the following message appears for approx. 20 seconds: "Favorite alert!". "Favorites" Select the symbol while the message is shown. ...