Storing favorites
Up to 30 favorites can be stored in the favorites list. Available favorites are artist, track, game, league, and team.
Storing the artist, track, or game
It is only possible to store favorites that are currently being broadcast. The channel information must be available.
1. "Radio".
2. "Satellite radio".
3. If necessary, open "All channels" or the desired category.
4. Select the desired channel.
5. Press the controller again.
6. Select the artist, track, or game.
Storing the league or team
Leagues or teams can be added to the favorites from a selection list.
1. "Radio".
2. "Satellite radio".
3. "Manage favorites".
4. "Add sports information"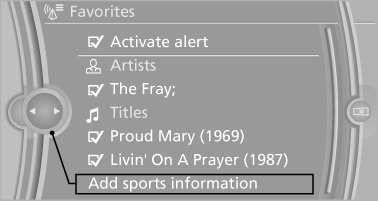 5. Select the league.
6. Select "Add all teams" or the desired team.
See also:
Audio/video playback
Audio Audio can be played back via rear entertainment from any source in the vehicle. Operation is the same as for the front audio playback. Video Video can be played back in the rear from the ...
The concept
The Check Control monitors vehicle functions and alerts you to any malfunctions in the systems monitored. A Check Control message consists of indicator and warning lamps in the instrument clust ...
Power failure
After a temporary power loss, some equipment needs to be reinitialized. Individual settings need to be reprogrammed: ▷ Seat, mirror, and steering wheel memory: store the positions again. ...