Storing favorites
Up to 30 favorites can be stored in the favorites list. Available favorites are artist, track, game, league, and team.
Storing the artist, track, or game
It is only possible to store favorites that are currently being broadcast. The channel information must be available.
1. "Radio".
2. "Satellite radio".
3. If necessary, open "All channels" or the desired category.
4. Select the desired channel.
5. Press the controller again.
6. Select the artist, track, or game.
Storing the league or team
Leagues or teams can be added to the favorites from a selection list.
1. "Radio".
2. "Satellite radio".
3. "Manage favorites".
4. "Add sports information"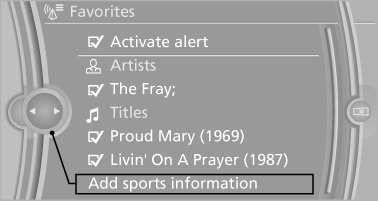 5. Select the league.
6. Select "Add all teams" or the desired team.
See also:
Fuel gauge
The vehicle inclination may cause the display to vary. Notes on refueling ...
Switching the system on/off
Press the left or right side of the button on the CD/DVD player in the rear for the respective page. Rear entertainment and screens are switched on/off. After switching off the ignition, ...
Illuminated vanity mirror* in the rear
Folding down Press the button. The vanity mirror folds down. The angle can be adjusted by hand. Folding up Press the mirror up. ...