Storing favorites
Up to 30 favorites can be stored in the favorites list. Available favorites are artist, track, game, league, and team.
Storing the artist, track, or game
It is only possible to store favorites that are currently being broadcast. The channel information must be available.
1. "Radio".
2. "Satellite radio".
3. If necessary, open "All channels" or the desired category.
4. Select the desired channel.
5. Press the controller again.
6. Select the artist, track, or game.
Storing the league or team
Leagues or teams can be added to the favorites from a selection list.
1. "Radio".
2. "Satellite radio".
3. "Manage favorites".
4. "Add sports information"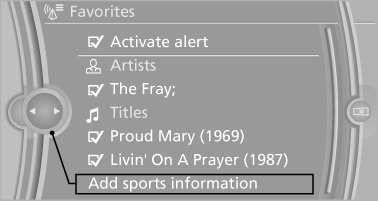 5. Select the league.
6. Select "Add all teams" or the desired team.
See also:
Stored stations
General information It is possible to store up to 40 stations. Calling up a station 1. "Radio" 2. "Presets" 3. Select the desired station. Storing a station The station curr ...
Selecting the display
1. Press the button. 2. "Split screen" 3. Move the controller until the split screen is selected. 4. Press the controller or select "Split screen content". 5. Select t ...
The concept
The vehicle alarm system responds to: ▷ Opening of a door, the hood or the trunk lid. ▷ Movements in the vehicle. ▷ Changes in the vehicle tilt, e.g., during attempts to steal a ...