Storing favorites
Up to 30 favorites can be stored in the favorites list. Available favorites are artist, track, game, league, and team.
Storing the artist, track, or game
It is only possible to store favorites that are currently being broadcast. The channel information must be available.
1. "Radio".
2. "Satellite radio".
3. If necessary, open "All channels" or the desired category.
4. Select the desired channel.
5. Press the controller again.
6. Select the artist, track, or game.
Storing the league or team
Leagues or teams can be added to the favorites from a selection list.
1. "Radio".
2. "Satellite radio".
3. "Manage favorites".
4. "Add sports information"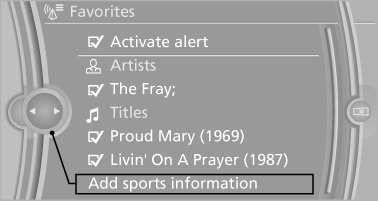 5. Select the league.
6. Select "Add all teams" or the desired team.
See also:
Rear doors
Push the locking lever on the rear doors down. The door can now be opened from the outside only. ...
The concept
HDC is a downhill driving assistant that automatically controls vehicle speed on steep downhill gradients. The vehicle moves at approximately walking speed without braking intervention by the ...
Managing music
Albums Renaming an album The name of the album, if available, is automatically entered when the album is stored. If the name is not available, it can be changed later if desired. 1. "CD/M ...