Storing favorites
Up to 30 favorites can be stored in the favorites list. Available favorites are artist, track, game, league, and team.
Storing the artist, track, or game
It is only possible to store favorites that are currently being broadcast. The channel information must be available.
1. "Radio".
2. "Satellite radio".
3. If necessary, open "All channels" or the desired category.
4. Select the desired channel.
5. Press the controller again.
6. Select the artist, track, or game.
Storing the league or team
Leagues or teams can be added to the favorites from a selection list.
1. "Radio".
2. "Satellite radio".
3. "Manage favorites".
4. "Add sports information"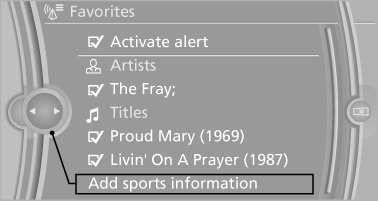 5. Select the league.
6. Select "Add all teams" or the desired team.
See also:
Brake assistant
When you apply the brakes rapidly, this system automatically produces the maximum braking force boost. It thus helps to achieve the shortest possible braking distance during full braking. This ...
2012 BMW 3 Series: Up Close
Of all BMW's cars, the 3 Series is the one that somehow escaped being hit by the Chris Bangle ugly stick, so I didn't go to the redesigned compact sedan's North American debut looking for sweet re ...
Switching on/off directly
1. "Settings" 2. "Climate" 3. "Activate parked-car vent." The symbol on the automatic climate control flashes if the system is switched on. ...