Route criteria
General information
▷ The route calculated can be influenced by selecting certain criteria.
▷ The route criteria can be changed when the destination is entered and during destination guidance.
▷ Road types are part of the navigation data and are taken into consideration when planning a route, such as when avoiding highways.
▷ The recommended route may differ from the route you would take based on personal experience.
▷ The settings are stored for the remote control currently in use.
▷ Destination guidance with traffic bulletins.
Changing the route criteria
1. "Navigation".
2. "Map".
3.



"Route preference".
4. Select the criterion:
▷

"Fast route": time-optimized route, being a combination of the shortest possible route and the fastest roads.
▷

"ECO PRO route": optimized combination of the fastest and shortest route.
▷

"Short route": short distance, irrespective of how fast or slow progress will be.
▷ "Alternative routes": if available, alternative routes are suggested during active route guidance.
The individual suggestions are highlighted in color.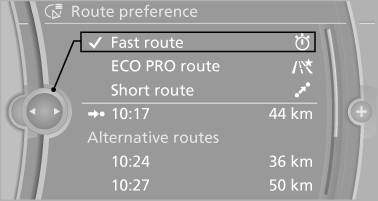 5. Specify additional criteria for the route, if necessary:
▷ "Avoid highways": highways are avoided wherever possible.
▷ "Avoid toll roads": toll roads are avoided wherever possible.
▷ "Avoid ferries": ferries are avoided where possible.
See also:
Top-class performance from eight or six cylinders: BMW TwinPower Turbo in the new BMW 6-Series Coupe.
One V8 and one six-cylinder in-line engine are available for the new BMW 6-Series Coupe from market launch, and both can claim unique features. These power units are kitted out with BMW TwinPower ...
Child seat security
Child seat security The rear safety belts ▷ BMW X5: all safety belts of the 2nd and 3rd row seats ▷ BMW X6: all safety belts of the 2nd row seats And the safety belt for the front ...
Managing music
Albums Renaming an album The name of the album, if available, is automatically entered when the album is stored. If the name is not available, it can be changed later if desired. 1. "CD/ ...