Route criteria
General information
▷ The route calculated can be influenced by selecting certain criteria.
▷ The route criteria can be changed when the destination is entered and during destination guidance.
▷ Road types are part of the navigation data and are taken into consideration when planning a route, such as when avoiding highways.
▷ The recommended route may differ from the route you would take based on personal experience.
▷ The settings are stored for the remote control currently in use.
▷ Destination guidance with traffic bulletins.
Changing the route criteria
1. "Navigation".
2. "Map".
3.



"Route preference".
4. Select the criterion:
▷

"Fast route": time-optimized route, being a combination of the shortest possible route and the fastest roads.
▷

"ECO PRO route": optimized combination of the fastest and shortest route.
▷

"Short route": short distance, irrespective of how fast or slow progress will be.
▷ "Alternative routes": if available, alternative routes are suggested during active route guidance.
The individual suggestions are highlighted in color.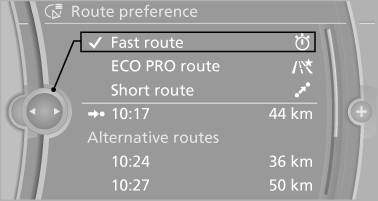 5. Specify additional criteria for the route, if necessary:
▷ "Avoid highways": highways are avoided wherever possible.
▷ "Avoid toll roads": toll roads are avoided wherever possible.
▷ "Avoid ferries": ferries are avoided where possible.
See also:
Service requirements
Display The driving distance or the time to the next scheduled maintenance is displayed briefly after the ignition is switched on. The current service requirements can be read out from the re ...
Gas station recommendation
The remaining range is calculated, and if necessary gas stations along the route are displayed. Even with the most current navigation data, information regarding individual gas stations may hav ...
Going & Stopping
The 750i gets a new V-8 engine for 2009 that's smaller but makes more power than the previous engine — 400 horsepower, to be exact. It's the same engine that delighted me in the X6 xDrive50i, and ...