Indications on the Control Display
EfficientDynamics
Information on fuel consumption and technology can be displayed during driving.
1. "Vehicle Info"
2. "EfficientDynamics"
Displaying fuel consumption history
The average fuel consumption can be displayed within an adjustable time frame.

"Consumption history"
Adjusting fuel consumption history time frame

Select the symbol.
Resetting fuel consumption history
1. "Options" Open.
2. "Reset consumption history"
Displaying EfficientDynamics info
The current efficiency can be displayed.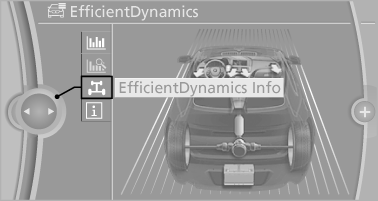 "EfficientDynamics Info"
The following systems are displayed:
▷ Automatic engine start/stop function.
▷ Energy recovery.
▷ Climate control output.
See also:
Special destinations
General information Even with the most current navigation data, information regarding particular individual destinations may have changed. For instance, certain gas stations may not be operatin ...
FTM Flat Tire Monitor
The concept The system does not measure the actual inflation pressure in the tires. It detects a pressure loss in a tire by comparing the rotational speeds of the individual wheels while moving ...
Updating the navigation data
General information Navigation data are stored in the vehicle and can be updated. Current navigation data and the authorization code are available from your service center. ► Depending ...