Roof-mounted luggage rack
Note
Roof racks are available as special accessories.
Attachment
Follow the installation instructions of the roof rack.
Roof drip rail with flaps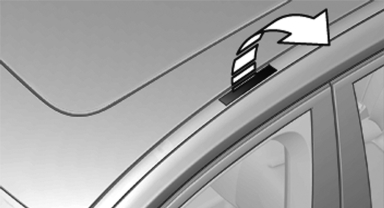 The anchorage points are located in the roof drip rail above the doors.
Fold the cover outward.
Loading
Because roof racks raise the vehicle's center of gravity when loaded, they have a major effect on vehicle handling and steering response.
Therefore, note the following when loading and driving:
▷ Do not exceed the approved roof/axle loads and the approved gross vehicle weight.
▷ Distribute the roof load uniformly.
▷ The roof load should not be too large in area.
▷ Always place the heaviest pieces on the bottom.
▷ Secure the roof luggage firmly, e.g., tie with ratchet straps.
▷ Drive smoothly. Avoid sudden acceleration and braking maneuvers. Take corners gently.
See also:
Managing the favorites
Activating/deactivating the favorites Favorites can be activated and deactivated globally and individually. 1. "Satellite radio" 2. "Manage favorites" 3. Select "Activa ...
Front ventilation
Front ventilation 1. Use the thumbwheels to smoothly open and close the air vents 2. Use the lever to change the direction of the air flow Avoiding injury Do not drop any foreign objects i ...
General driving notes
Close the trunk lid Only drive with the trunk closed. Failure to do so may endanger passengers or other road users or may damage the vehicle in the event of an accident or a braking and evasive ma ...