Roof-mounted luggage rack
Note
Roof racks are available as special accessories.
Attachment
Follow the installation instructions of the roof rack.
Roof drip rail with flaps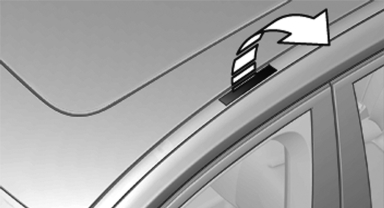 The anchorage points are located in the roof drip rail above the doors.
Fold the cover outward.
Loading
Because roof racks raise the vehicle's center of gravity when loaded, they have a major effect on vehicle handling and steering response.
Therefore, note the following when loading and driving:
▷ Do not exceed the approved roof/axle loads and the approved gross vehicle weight.
▷ Distribute the roof load uniformly.
▷ The roof load should not be too large in area.
▷ Always place the heaviest pieces on the bottom.
▷ Secure the roof luggage firmly, e.g., tie with ratchet straps.
▷ Drive smoothly. Avoid sudden acceleration and braking maneuvers. Take corners gently.
See also:
SPORT+
Sporty driving with optimized chassis and suspension during limited driving stabilization. Dynamic Traction Control is switched on. The driver handles several of the stabilization tasks. Activa ...
At a glance
These overviews of buttons, switches and displays are intended to familiarize you with your vehicle. You will also become quickly acquainted with the available control concepts and options. ...
Automatic headlamp control
Switch position : the low beams are switched on and off automatically, e.g., in tunnels, in twilight or if there is precipitation. The indicator lamp in the instrument cluster lights up. A bl ...