Roof-mounted luggage rack
Note
Roof racks are available as special accessories.
Attachment
Follow the installation instructions of the roof rack.
Roof drip rail with flaps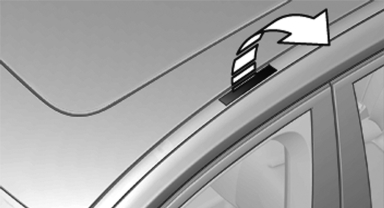 The anchorage points are located in the roof drip rail above the doors.
Fold the cover outward.
Loading
Because roof racks raise the vehicle's center of gravity when loaded, they have a major effect on vehicle handling and steering response.
Therefore, note the following when loading and driving:
▷ Do not exceed the approved roof/axle loads and the approved gross vehicle weight.
▷ Distribute the roof load uniformly.
▷ The roof load should not be too large in area.
▷ Always place the heaviest pieces on the bottom.
▷ Secure the roof luggage firmly, e.g., tie with ratchet straps.
▷ Drive smoothly. Avoid sudden acceleration and braking maneuvers. Take corners gently.
See also:
Switching on/off directly
1. "Settings" 2. "Climate" 3. "Activate parked-car vent." The symbol on the automatic climate control flashes if the system is switched on. ...
Exceptional performance assisted by innovative design features
The exceptional performance of the new engine is due last but not least to various innovative features of the core engine. For example, balancer shafts positioned at different heights result in op ...
Braking: One Step Up, Two Back
There is an aspect of the 5 Series that we do object to, though, and that's the braking. To be clear, the car stops well enough; it's not a safety concern. The problem is the feel of the braking, ...