Roof-mounted luggage rack
Note
Roof racks are available as special accessories.
Attachment
Follow the installation instructions of the roof rack.
Roof drip rail with flaps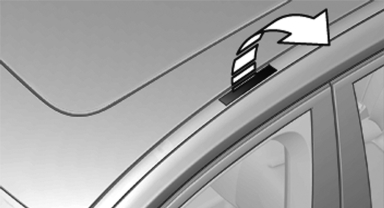 The anchorage points are located in the roof drip rail above the doors.
Fold the cover outward.
Loading
Because roof racks raise the vehicle's center of gravity when loaded, they have a major effect on vehicle handling and steering response.
Therefore, note the following when loading and driving:
▷ Do not exceed the approved roof/axle loads and the approved gross vehicle weight.
▷ Distribute the roof load uniformly.
▷ The roof load should not be too large in area.
▷ Always place the heaviest pieces on the bottom.
▷ Secure the roof luggage firmly, e.g., tie with ratchet straps.
▷ Drive smoothly. Avoid sudden acceleration and braking maneuvers. Take corners gently.
See also:
Lane departure warning
The concept Starting at a specific speed, this system alerts you when the vehicle on streets with lane markings is about to leave the lane. Depending on the country-specific version of the vehicle ...
Automatic Service Request
Data regarding the maintenance status or legally mandated inspections of the vehicle are automatically transmitted to your service center before a service due date. You can check when your serv ...
Audio playback
Selecting the track using the button Press the button repeatedly until the desired track is played. Selecting a track via iDrive Audio CDs Select the desired track to begin playback CDs/DV ...