The concept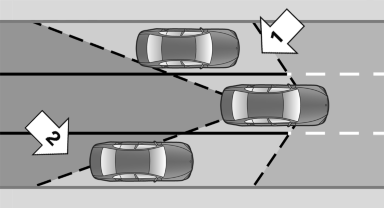 The concept
Two radar sensors below the rear bumper monitor the area behind and next to the vehicle at speeds above approx. 30 mph/50 km/h.
The system indicates whether there are vehicles in the blind spot, arrow 1, or approaching from behind on the adjacent lane, arrow 2.
The lamp in the exterior mirror housing lights up dimly.
Before you change lanes after setting the turn signal, the system issues a warning in the situations described above.
The lamp in the housing of the exterior mirror flashes and the steering wheel vibrates.
See also:
Country codes of DVDs
Your DVD player only plays DVDs with the coding of your home region, e.g., Europe=2. The country codes supported by your DVD are contained in the information on your DVD. An overview of the cod ...
Tire tread
Summer tires Do not drive with a tire tread depth of less than 0.12 in/3 mm. There is an increased danger of hydroplaning if the tread depth is less than 0.12 in/3 mm. Winter tires Do not driv ...
Playback
Loading the CD/DVD player Insert the CD/DVD with the printed side up. Playback begins automatically. Reading can take a few minutes with compressed audio files. Starting playback A CD/DVD is lo ...