Ambient light
Depending on the equipment, the lighting can be individually adjusted in the interior for some lights.
Selecting color scheme
1. "Settings"
2. "Lighting"
3. "Ambient:"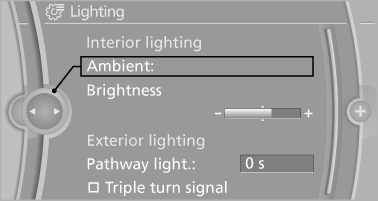 4. Select the desired setting.
If the color scheme of the line is selected and the welcome lamps are activated, the welcome lamps are displayed in color when unlocking the vehicle.
Setting the brightness
The brightness of the ambient light can be adjusted via the thumbwheel for the instrument lighting but also independently of it.
1. "Settings"
2. "Lighting"
3. "Brightness"
4. Adjust the brightness.
See also:
Visual warning
The approach of the vehicle to an object can be shown on the Control Display. Objects that are farther away are displayed on the Control Display before a signal tone sounds. A display appears a ...
First aid pouch
Some of the articles contained in the first aid pouch have a limited service life. Therefore, check the expiration dates of the contents regularly and replace any items in good time, if necessary. ...
What to do if...
▷ The current transmission position cannot be displayed? The vehicle is located in an unrecognized region, is in a poor reception area, or the system is currently determining the position ...