Clean the windshield, headlamps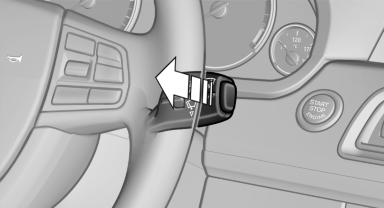 Clean the windshield, headlamps
Pull the lever.
The system sprays washer fluid on the windshield and activates the wipers briefly.
In addition, the headlamps are cleaned at regular intervals when the vehicle lights are switched on.

Do not use the washer system at freezing temperatures
Do not use the washers if there is any danger that the fluid will freeze on the windshield; otherwise, your vision could be obscured. For this reason, use antifreeze.
Avoid using the washer when the reservoir is empty; otherwise, you could damage the pump.
See also:
Radio ready state
Activate radio ready state: When the ignition is switched off: press ON/ OFF button on the radio. When the engine is running: press START/ STOP button. Some electronic systems/power con ...
Tire inflation pressures at max. speedsabove 100 mph/160 km/h
Speeds above 100 mph/160 km/h In order to drive at maximum speeds in excess of 100 mph/160 km/h, please observe, and, if necessary, adjust tire pressures for speeds exceeding 100 mph/160 km/h fro ...
2012 BMW 3 Series: Up Close
Of all BMW's cars, the 3 Series is the one that somehow escaped being hit by the Chris Bangle ugly stick, so I didn't go to the redesigned compact sedan's North American debut looking for sweet re ...