Open trunk lid with no-touch activation
With Comfort Access, the trunk lid can be opened with no-touch activation using the remote control you are carrying.
A sensor detects a directed foot motion in the center of the area at the rear of the car and the trunk lid opens.
During opening, the trunk lid pivots back and up.
Ensure that adequate clearance is available before opening.

Do not touch vehicle
With the foot motion, make sure there is steady stance and do not touch the vehicle; otherwise, there is a danger of injury, e. g. from hot exhaust system parts.
1. Position in the center behind the vehicle.
2. Move foot in the direction of travel underneath the bumper and immediately back.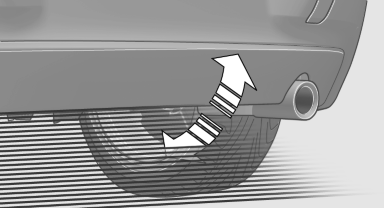 The trunk lid opens, regardless of whether it was previously locked or unlocked.
See also:
Address book
Create contacts ...
Video playback
Country codes Playback The video image is displayed on the Control Display up to a speed of approx. 2 mph/3 km/h; in some countries, it is only displayed while the parking brake is set or th ...
The concept
HDC is a downhill driving assistant that automatically controls vehicle speed on steep downhill gradients. Without requiring brake application, the vehicle moves at slightly more than twice wa ...