Open trunk lid with no-touch activation
With Comfort Access, the trunk lid can be opened with no-touch activation using the remote control you are carrying.
A sensor detects a directed foot motion in the center of the area at the rear of the car and the trunk lid opens.
During opening, the trunk lid pivots back and up.
Ensure that adequate clearance is available before opening.

Do not touch vehicle
With the foot motion, make sure there is steady stance and do not touch the vehicle; otherwise, there is a danger of injury, e. g. from hot exhaust system parts.
1. Position in the center behind the vehicle.
2. Move foot in the direction of travel underneath the bumper and immediately back.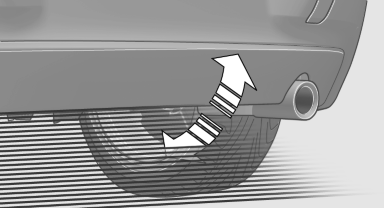 The trunk lid opens, regardless of whether it was previously locked or unlocked.
See also:
Personal Profile settings
The following functions and settings can be stored in a profile. More information on the settings can be found under: Assigning the programmable memory buttons ▷ Response of the central l ...
Sound output
Switching on/off When the ignition is switched off: press ON/OFF button on the radio. Muting When the ignition is switched on or the engine is running: press the ON/OFF button on the radio. ...
Priority options
The driver has priority The source selected via iDrive in the front is output on the vehicle loudspeakers and can be selected but not operated from the rear. Other audio or video sources ...