Trunk lid

In order to avoid damage, make sure there is sufficient clearance before opening the trunk lid.
Opening from inside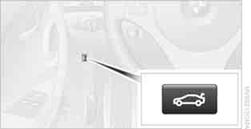 Press the button: the trunk lid opens unless it has been locked.
Opening from outside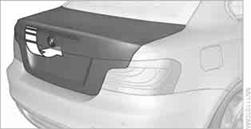 Press the button, see arrow, or the

button on the remote control for a longer period. The trunk lid opens slightly and can be swung upward.

In the event of a malfunction, please contact your BMW center or a workshop that works according to BMW repair procedures with correspondingly trained personnel.
Locking or unlocking separately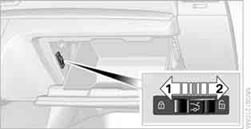 The switch is located in the glove compartment.
1. Locking the trunk lid
2. Unlocking the trunk lid
Locking separately
Push the switch in the direction of arrow 1.
The trunk lid is locked and cannot be unlocked using the central locking system.
If you give the remote control without the integrated key to someone else while the glove compartment is locked, the trunk lid cannot be opened. This is an advantage when valet parking, for example. Locking the glove compartment.
Unlocking separately
Push the switch in the direction of arrow 2.
Emergency release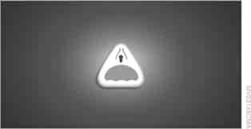 Pull the lever in the cargo area. The trunk lid is unlocked.
Closing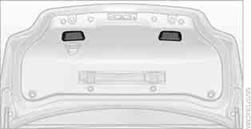 The handle recesses on the interior trim of the trunk lid make it easier to pull down.

Make sure that the closing path of the trunk lid is clear; otherwise, injuries may result.
See also:
Driving through water
Drive though calm water only if it is not deeper than 9.8 inches/25 cm and at this height, no faster than walking speed, up to 6 mph/10 km/h. Adhere to water depth and speed limitations Do not ...
Tow-starting and towing
Automatic transmission: transporting your vehicle Note Your vehicle is not permitted to be towed. Therefore, contact a service center in the event of a breakdown. Do not have the vehicle towe ...
DTMF suffix dialing
DTMF suffix dialing can be used for gaining access to network services or for controlling devices, e.g., to make a remote inquiry of an answering machine. The DTMF code is needed for this purp ...