Minimum tread depth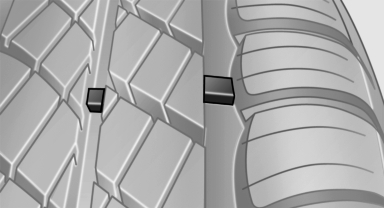 Minimum tread depth
Wear indicators are distributed around the tire's circumference and have the legally required minimum height of 0.063 in/1.6 mm.
They are marked on the side of the tire with TWI, Tread Wear Indicator.
See also:
Installing child restraint systems
Observe the child restraint system manufacturer's instructions when selecting, installing and using child restraint systems. Otherwise, the protective effect may be diminished. Standard chil ...
Actions in the event of a flat tire
Run-flat tires You can continue driving with a damaged tire at speeds up to 50 mph/80 km/h. Do not continue driving without run-flat tires If the vehicle is not equipped with run-flat tires ...
Closing the hood
Closing the hood Drop the hood from a height of approx. 16 in/ 40 cm. It must be clearly heard to engage. Hood open when driving If you see any signs that the hood is not completely closed ...