Calls with multiple participants
General information
You can switch between calls or connect two calls to a single conference call. These functions must be supported by the mobile phone and service provider.
Accepting a call while speaking to another party
This function might have to be activated by the service provider and the mobile phone must be adjusted accordingly.
If a second call comes in during an ongoing call, a call waiting signal is sounded.

"Accept"
The call is accepted and the existing call is put on hold.
Establishing a second call
Establish an additional call during an active call.
1. "Telephone"
2. "Active calls"
3.

"Hold"
The existing call is put on hold.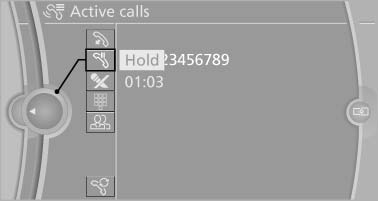 The existing call is put on hold
4. Dial the new phone number or select it from a list.

"Return" The call on hold is resumed.
Switching between two calls, hold call
The active call is displayed in color.
The call on hold is displayed in gray.

"Swap calls" The call on hold is resumed.
Establishing a conference call
Two calls can be connected to a single telephone conference call.
1. Establish two calls.
2.

"Conference call" When terminating a conference call, both calls are ended. If one call is terminated by another party, the other call can be continued.
See also:
Programming
Programming 1. Memory buttons 2. LED Fixed-code hand-held transmitters 1. Switch on the ignition, refer to page 61. 2. Initial setup: Press both outer memory buttons 1 for approx. 20 seconds ...
Mounts for the lower LATCH anchors
Correctly engage the lower LATCH anchors Make sure that the lower LATCH anchors have properly engaged and that the child restraint fixing system is resting snugly against the backrest; otherw ...
Automatic car washes
Notes Note the following: ▷ Give preference to cloth car washes or those that use soft brushes in order to avoid paint damage. ▷ Make sure that the wheels and tires are not damage ...