Calls with multiple participants
General information
You can switch between calls or connect two calls to a single conference call. These functions must be supported by the mobile phone and service provider.
Accepting a call while speaking to another party
This function might have to be activated by the service provider and the mobile phone must be adjusted accordingly.
If a second call comes in during an ongoing call, a call waiting signal is sounded.

"Accept"
The call is accepted and the existing call is put on hold.
Establishing a second call
Establish an additional call during an active call.
1. "Telephone"
2. "Active calls"
3.

"Hold"
The existing call is put on hold.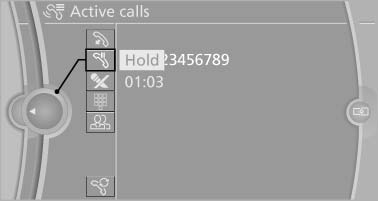 The existing call is put on hold
4. Dial the new phone number or select it from a list.

"Return" The call on hold is resumed.
Switching between two calls, hold call
The active call is displayed in color.
The call on hold is displayed in gray.

"Swap calls" The call on hold is resumed.
Establishing a conference call
Two calls can be connected to a single telephone conference call.
1. Establish two calls.
2.

"Conference call" When terminating a conference call, both calls are ended. If one call is terminated by another party, the other call can be continued.
See also:
The concept
The parking brake is primarily intended to prevent the vehicle from rolling while parked; it brakes the rear wheels. ...
Received calls
Displaying calls The 20 calls that were last received are displayed. 1. "Telephone" 2. "Received calls" Calling a number from the list Selecting an entry. The connection ...
BMW TwinPower Turbo technology in the new four-cylinder engine
This new engine is the most powerful in a new generation of four-cylinder petrol units based on the same reduced-friction core engine, their different output ratings being achieved principally by ...