Adaptive fixing system
The adaptive fixing system is used to divide up the cargo area. It consists of two brackets with a telescopic rail and retaining straps. These are guided into the two rails on the cargo area floor.

Securing cargo
Before using the adaptive fixing system, fold up and lock the rear seat backrest; otherwise, the cargo could be thrown into the vehicle interior in an accident.◀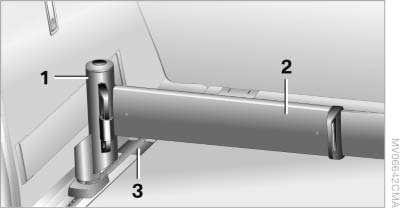 Adaptive fixing system
1. Brackets
2. Telescopic rail
3. Notch in the cargo area rail
Mounting brackets
The two brackets are connected with a telescopic rail.
1. Insert the brackets at the respective notch in the rail on the cargo area floor.
2. Press down the brackets to push them into the desired position.
3. Check the firm seating of the brackets. They must be clearly heard to engage.

No cargo on brackets
Do not lay cargo on the brackets, as otherwise they could be unlocked.◀
Dividing up cargo area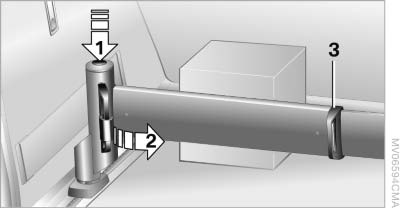 Dividing up cargo area
The cargo can be positioned as follows:
▷ Between the rear seat backrest and the telescopic rail
▷ Between the telescopic rail and the retaining strap Positioning cargo between telescopic rail and retaining strap:
1. Lay the cargo on the telescopic rail. Press the button, arrow 1, and route the retaining strap around the cargo, arrow 2.
2. Hook the retaining strap into the mount 3 on the telescopic rail.
3. Press the button of the bracket, arrow 1. The retaining strap is tensioned.
It is also possible to hook the two retaining straps onto each other.
When the adaptive fixing system is no longer needed, unhook the retaining strap and guide it back into the bracket holding the hook to prevent damage and injury.
Then slide the fastening system toward the front in order to permit the best possible use of the cargo area.
Removing brackets
Press down the brackets, slide them up to the notches of the rails and remove them.
Depending on the vehicle's equipment, the adaptive fixing system can be stored under the cargo floor panel in the cargo area.
See also:
Bypassing a section of the route
Calculate a new route for a route section. 1. "Navigation". 2. "Route information". 3. "New route for" 4. Turn the controller. Enter the number of miles within wh ...
Malfunction
A Check Control message is displayed. Adaptive light control is malfunctioning or has failed. Have the system checked as soon as possible. ...
Mounting LATCH child restraint fixing systems on power rear seats
1. Before mounting, adjust the seats to their basic position. 2. For better accessibility, tilt the backrest back slightly. 3. Mount the child restraint fixing system; refer to the operating i ...