Rear operation
The control unit is located in the center console in the rear.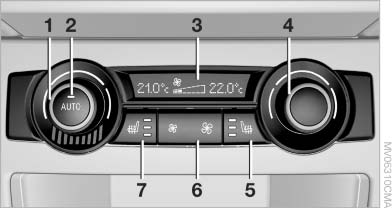 Rear operation
1. Temperature, left rear seating area
2. AUTO program
3. Display
4. Temperature, right rear seating area
5. Seat heating, right rear seat
6. Air volume, manual
7. Seat heating, left rear seat
The current setting for the temperature and the air flow rate is shown on display 3.
Activation/deactivation
1. "Settings"
2. "Climate"
3. "Rear climate control"
4. Select the desired settings.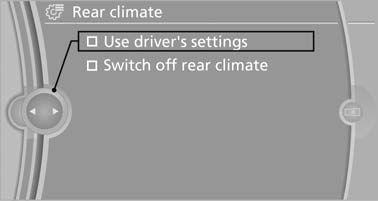 Select the desired settings
The rear automatic climate control cannot be operated if the front automatic climate control is switched off. With the defrost windows and eliminate condensation function activated, the rear automatic climate control is also not ready for operation.
AUTO program

The AUTO program automatically sets the air distribution toward the upper body and in the footwell, as well as the air flow rate. It also adapts your instructions for the temperature to outside influences throughout the year.
Temperature

Set the desired temperature individually on the left and right side.
The automatic climate control achieves this temperature as quickly as possible regardless of the season, using maximum cooling or heating power if necessary, and then maintains it.
When switching between different temperature settings in rapid succession, the automatic climate control does not have sufficient time to adjust the set temperature.
Air volume, manual

The air flow rate can be varied by pressing on the corresponding side. The automatic mode for the air flow rate can be switched on again using the AUTO button.
Switching off rear automatic climate control

With the blower at its lowest setting, press the left side of the button to switch off the automatic climate control.
The automatic climate control can also be switched off with iDrive. To switch on the automatic climate control again, the system must first be reactivated, refer to Activating/deactivating.
The system is switched on again by pressing any button of the rear automatic climate control.
See also:
Opening
During opening, the trunk lid pivots back and up. Ensure that adequate clearance is available before opening. Opening from the outside Press the button on the trunk lid. Press the button ...
Status of the Owner's Manual
The manufacturer of your vehicle pursues a policy of constant development that is conceived to ensure that our vehicles continue to embody the highest quality and safety standards. In rare cas ...
Programming
General information 1. Switch on the ignition. 2. Initial setup: Press and hold the left and right button on the interior rearview mirror simultaneously for approximately 20 seconds until the L ...