Coolant
Coolant consists of half water and half additive. Not all commercially available additives are suitable for your BMW. Ask your BMW center for suitable additives.

Only use suitable additives; otherwise, engine damage may result. Because additives are harmful to your health, it is important to follow the instructions on the containers.

Comply with the appropriate environmental protection regulations when disposing of coolant additives.
Coolant temperature
If the coolant and therefore the engine overheats, a warning lamp lights up. A message appears on the Control Display.
Checking coolant level

Do not add coolant to the cooling system when the engine is hot. Escaping coolant can cause burns.
1. Do not open the engine hood before the engine has cooled down.
2. Turn the cap of the expansion tank a little counterclockwise to allow any accumulated pressure to escape, then continue turning to open.
3. The coolant level is correct if it is between the maximum and minimum marks in the filler neck, refer also to the diagram next to the filler neck.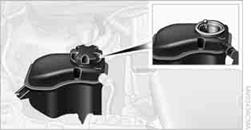 4. If the coolant is low, slowly add coolant up to the specified level; do not overfill.
5. Turn the cap until there is an audible click.
6. Have the reason for the coolant loss eliminated as soon as possible.
See also:
Enlarging the cargo area
The rear seat backrest is divided. You can fold down both sides separately in order to expand the cargo area. BMW X6: before folding the rear seat backrest forward Before folding the rear se ...
CD/Multimedia
CD/DVD drive Music collection External devices Tone control ...
For Canadian customers
Canadian customers who wish to report a safety-related defect to Transport Canada, Defect Investigations and Recalls, may telephone the toll-free hotline 1-800-333-0510. You can also obtain ot ...