Hood
Releasing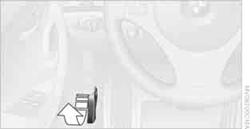 Pull the lever.
Opening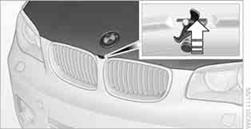 To avoid damage, make sure that the wiper arms are against the windshield before you open the engine compartment. Do not open the engine hood before the engine has cooled down; otherwise, injuries may result.
Press the release handle and open the hood.
Closing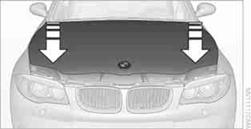 Close the hood from a height of approx. 16 in/40 cm with momentum. It must be clearly heard to engage.

Make sure that the closing path of the hood is clear; otherwise, injuries may result.
If you see any signs while driving your vehicle that the hood is not completely closed, stop at once and close it securely.