Run-flat tires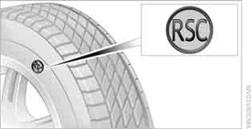 The symbol identifying run-flat tires is a circle with the letters RSC on the sidewall.
Run-flat tires comprise a conditionally self-supporting tire and a special rim. The reinforcement in the sidewalls ensures that the tire can continue to be used subject to certain restrictions, even if depressurized.
For information on continuing to drive with a flat tire, refer to Indication of a flat tire on page 85.
See also:
System limits
Speed range Best results are achieved when using the system on well-developed roads and highways. The desired speed can be selected between 20 mph/30 km/h to 110 mph/180 km/h. The system can al ...
Redialing
General information The list of dialed numbers in the mobile phone is transmitted to the vehicle depending on the mobile phone. The 20 phone numbers dialed last are displayed. The sorting order ...
Filtering the message list
The message list can be filtered, when more than one type of message exists. 1. "Filter:" 2. Select the type of message. "All" All messages are displayed. "E-m ...