Run-flat tires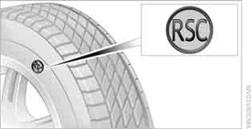 The symbol identifying run-flat tires is a circle with the letters RSC on the sidewall.
Run-flat tires comprise a conditionally self-supporting tire and a special rim. The reinforcement in the sidewalls ensures that the tire can continue to be used subject to certain restrictions, even if depressurized.
For information on continuing to drive with a flat tire, refer to Indication of a flat tire on page 85.
See also:
SPORT
Consistently sporty tuning of the suspension for greater driving agility with maximum driving stabilization. The program can be configured to individual specifications. The configuration is stor ...
Managing the favorites
Activating/deactivating the favoritesFavorites can be activated and deactivated globally and individually. 1. "Satellite radio" 2. "Manage favorites" 3. Sel ...
Automatic update
About twice a year, Sirius performs an update of the channel names and positions. The update takes place automatically and may take several minutes. ...