Run-flat tires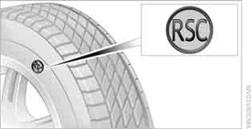 The symbol identifying run-flat tires is a circle with the letters RSC on the sidewall.
Run-flat tires comprise a conditionally self-supporting tire and a special rim. The reinforcement in the sidewalls ensures that the tire can continue to be used subject to certain restrictions, even if depressurized.
For information on continuing to drive with a flat tire, refer to Indication of a flat tire on page 85.
See also:
The concept
The vehicle can be accessed without activating the remote control. All you need to do is to have the remote control with you, e.g., in your jacket pocket. The vehicle automatically detects the r ...
Radio
When the same radio source is selected in the front and rear (e.g., FM/AM), the same radio station is played. Operation is the same as for the front radio. ...
Important features in the engine compartment
BMW X5 BMW X5 1. Filler neck for washer fluid for the headlamp and window washer system 2. Starting aid terminal 3. Coolant expansion tank 4. Engine oil filler neck BMW X6 BMW ...