Tire identification marks
Knowledge of the labeling on the side of the tire makes it easier to identify and choose the right tires.
Tire size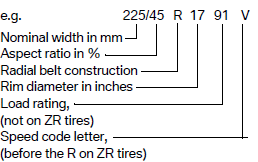 Speed code letter
Q = up to 100 mph or 160 km/h
T = up to 118 mph or 190 km/h
H = up to 131 mph or 210 km/h
V = up to 150 mph or 240 km/h
W = up to 167 mph or 270 km/h
Y = up to 186 mph or 300 km/h
Tire Identification Number
Tires with DOT codes meet the guidelines of the US Department of Transportation.
DOT code: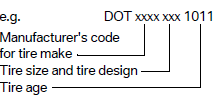 Tire age
The manufacturing date of tires is contained in the tire coding: DOT Е 1011 means that the tire was manufactured in week 10 of 2011.
BMW recommends that you replace all tires after 6 years at most, even if some tires may last for 10 years.
Uniform Tire Quality Grading
Quality grades can be found where applicable on the tire sidewall between tread shoulder and maximum section width. For example:
Tread wear 200 Traction AA
Temperature A
DOT Quality Grades
Tread wear
Traction AA A B C
Temperature A B C

All passenger car tires must conform to Federal Safety Requirements in addition to these grades.
Tread wear
The tread wear grade is a comparative rating based on the wear rate of the tire when tested under controlled conditions on a specified government test course. For example, a tire graded 150 would wear one and one-half (1?) times as well on the government course as a tire graded 100. The relative performance of tires depends upon the actual conditions of their use, however, and may depart significantly from the norm due to variations in driving habits, service practices and differences in road characteristics and climate.
Traction
The traction grades, from highest to lowest, are AA, A, B, and C.
Those grades represent the tire's ability to stop on wet pavement as measured under controlled conditions on specified government test surfaces of asphalt and concrete. A tire marked C may have poor traction performance.

The traction grade assigned to this tire is based on straight-ahead braking traction tests, and does not include acceleration, cornering, hydroplaning, or peak traction characteristics.
Temperature
The temperature grades are A, the highest, B, and C, representing the tire's resistance to the generation of heat and its ability to dissipate heat when tested under controlled conditions on a specified indoor laboratory test wheel. Sustained high temperature can cause the material of the tire to degenerate and reduce tire life, and excessive temperature can lead to sudden tire failure. The grade C corresponds to a level of performance which all passenger car tires must meet under the Federal Motor Vehicle Safety Standard No. 109. Grades B and A represent higher levels of performance on the laboratory test wheel than the minimum required by law.

The temperature grade for this tire is established for a tire that is properly inflated and not overloaded. Excessive speed, underinflation, or excessive loading, either separately or in combination, can cause heat buildup and possible tire failure.
RSC Ц run-flat tires
You will recognize run-flat tires by a circular symbol containing the letters RSC on the side of the tire.
M+S
Winter and all-season tires.
These have better winter properties than summer tires.
XL
Designation for specially reinforced tires.
See also:
Opening
During opening, the trunk lid pivots back and up. Ensure that adequate clearance is available before opening. Opening from the outside Press the button on the trunk lid. Press the button ...
Checking the engine oil level
Your car is equipped with an electronic engine oil level check. Requirements ▷ The engine must be running and warm after the vehicle has been driven for at least 6.2 miles/10 km. ▷ ...
Socket for OBD Onboard Diagnosis
There is an OBD socket on the driver's side for checking the primary components in the vehicle emissions. Emissions The warning lamp lights up: Emissions are deteriorating. Have the vehic ...