Fuel specifications
Never use fuels labeled at the fuel pump as metal-containing.

Do not use leaded gasoline or gasoline with metal-containing additives such as manganese or iron; doing so can cause permanent damage to the catalytic converter or other components.

Do not fill the tank with E85, i.e. fuel containing 85 Ξ ethanol, nor with FlexFuel.
Otherwise, the engine and fuel supply system will be damaged.
Required fuel
Super Premium Gasoline/AKI 91
This gasoline is highly recommended. However, you may also use gasoline with less
AKI. The minimum AKI Rating is:
> 128i: 87
> 135i: 89
If you use gasoline with this minimum AKI Rating, the engine may produce knocking sounds when starting at high outside temperatures. This has no effect on the engine life.

Do not use any gasoline below the specified minimum fuel grade. Otherwise, the engine could be damaged.
Use high-quality brands
Field experience has indicated significant differences in fuel quality: volatility, composition, additives, etc., among gasolines offered for sale in the United States and Canada.
Fuels containing up to and including 10 Ξ ethanol or other oxygenates with up to 2.8Ξ oxygen by weight, that is, 15 Ξ MTBE or 3 Ξ methanol plus an equivalent amount of cosolvent, will not void the applicable warranties with respect to defects in materials or workmanship.

The use of poor-quality fuels may result in drivability, starting and stalling problems especially under certain environmental conditions such as high ambient temperature and high altitude.
Should you encounter drivability problems which you suspect could be related to the fuel you are using, we recommend that you respond by switching to a recognized high-quality brand such as gasoline that is advertised as Top Tier Detergent Gasoline.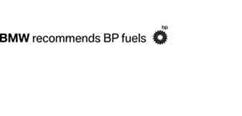 Failure to comply with these recommendations may also result in unscheduled maintenance.
See also:
Adaptive brake assistant
In combination with the Active Cruise Control, this system ensures that the brakes respond even more rapidly when braking in critical situations. Refer also to Collision warning ...
Special destinations
General information Even with the most current navigation data, information regarding particular individual destinations may have changed. For instance, certain gas stations may not be operatin ...
Vehicle equipment
All standard, country-specific and optional equipment that is offered in the model series is described in this chapter. Therefore, equipment is also described that is not available in a vehicle, e ...