Timeshift
Approx. one hour of the program being broadcast on the channel currently being listened to is stored in a buffer. Prerequisite: the signal must be available.
The stored audio track can be played with a delay following the live broadcast. When the buffer is full, the older tracks are overwritten. The buffer is cleared when a new channel is selected.
Opening the timeshift function
1. "Radio"
2. "Satellite radio"
3.

"Replay Time shift"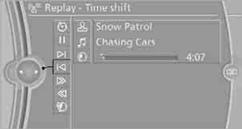 > The red arrow shows the current playback position.
> The time difference to the live broadcast is displayed next to the buffer bar.
> With a live broadcast: "live".
Timeshift menu
Automatic Timeshift
With the function activated, the audio playback is automatically stopped when:
> There are incoming and outgoing phone calls.
> The voice activation system is activated.
> Muting function is activated.
The audio playback continues after a time delay.
Activating
1. "Radio"
2. "Satellite radio"
3.

"Replay Time shift"
4.

"Automatic time shift"
Deactivating

"Automatic time shift"
See also:
Antilock Brake System ABS
ABS prevents locking of the wheels during braking. The vehicle remains steerable even during full brake applications, thus increasing active safety. ABS is operational every time you start the e ...
Entering an address using a command
1. Press the button on the steering wheel. 2. Enter address 3. Wait for a request from the system. 4. Say the address in the suggested order. 5. Continue making the entry as prompted by the ...
Control Display
Notes ▷ To clean the Control Display, follow the care instructions ▷ Do not place objects close to the Control Display; otherwise, the Control Display can be damaged. Switching of ...