Timeshift
Approx. one hour of the program being broadcast on the channel currently being listened to is stored in a buffer. Prerequisite: the signal must be available.
The stored audio track can be played with a delay following the live broadcast. When the buffer is full, the older tracks are overwritten. The buffer is cleared when a new channel is selected.
Opening the timeshift function
1. "Radio"
2. "Satellite radio"
3.

"Replay Time shift"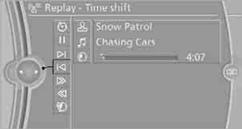 > The red arrow shows the current playback position.
> The time difference to the live broadcast is displayed next to the buffer bar.
> With a live broadcast: "live".
Timeshift menu
Automatic Timeshift
With the function activated, the audio playback is automatically stopped when:
> There are incoming and outgoing phone calls.
> The voice activation system is activated.
> Muting function is activated.
The audio playback continues after a time delay.
Activating
1. "Radio"
2. "Satellite radio"
3.

"Replay Time shift"
4.

"Automatic time shift"
Deactivating

"Automatic time shift"
See also:
Show contact pictures
Pictures stored with the contacts are stored in the vehicle when the mobile phone is connected to the vehicle. The number of transmitted pictures depends on the mobile phone. The mobile phone ...
Storage compartments in the cargo area
Left storage compartment A storage compartment is located on the left side. Net Small objects can be stowed in the net on the left side. Right storage compartment Located on the right side is ...
Opening the search for special destinations
Selection of special destinations, such as hotels or tourist attractions. 1. "Navigation" 2. "Points of Interest" 3. Select the search function. ...