Timeshift
Approx. one hour of the program being broadcast on the channel currently being listened to is stored in a buffer. Prerequisite: the signal must be available.
The stored audio track can be played with a delay following the live broadcast. When the buffer is full, the older tracks are overwritten. The buffer is cleared when a new channel is selected.
Opening the timeshift function
1. "Radio"
2. "Satellite radio"
3.

"Replay Time shift"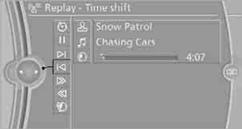 > The red arrow shows the current playback position.
> The time difference to the live broadcast is displayed next to the buffer bar.
> With a live broadcast: "live".
Timeshift menu
Automatic Timeshift
With the function activated, the audio playback is automatically stopped when:
> There are incoming and outgoing phone calls.
> The voice activation system is activated.
> Muting function is activated.
The audio playback continues after a time delay.
Activating
1. "Radio"
2. "Satellite radio"
3.

"Replay Time shift"
4.

"Automatic time shift"
Deactivating

"Automatic time shift"
See also:
Xenon headlamps
Because of the long life of these bulbs, the likelihood of failure is very low. Switching the lamps on and off frequently shortens their life. If a bulb fails, switch on the front fog lamps and ...
Adjusting the volume
Turn the volume button while giving an instruction until the desired volume is set. ▷ The volume remains constant even if the volume of other audio sources is changed. ▷ The volume i ...
Setting the language
Press the adjustment button for 12‑13 seconds. Briefly press the adjustment button again to switch between English "E" and German "O". The setting is automatically saved ...