Destination guidance through voice instructions
Switching voice instructions on/offVoice instructions can be switched on or off during destination guidance.
1. "Navigation"
2. "Map"
3.


"Voice instructions"
For rapid access, the feature can be stored on a programmable memory key.
Repeating a voice instruction
1. "Navigation"
2. "Map"
3. Highlight the

symbol.
4. Press the controller twice.
Adjusting volume for voice instructionsThe volume can be adjusted only while a voice instruction is being issued.
1. Have the last voice instruction repeated, if necessary.
2. Turn the button during the voice instruction to select the desired volume.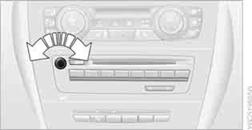 The setting is stored for the remote control currently in use.
See also:
Radio ready state
Activate radio ready state: ▷ When the ignition is switched off: press ON/ OFF button on the radio. ▷ When the engine is running: press START/ STOP button. Some electronic systems/p ...
The Appendage Factor
M cars have had what I call a high appendage factor — the feeling that the car is an extension of the driver. It's typically experienced in cars whose various systems and characteristics are well- ...
Activating assistance functions
Several assistance functions can be active at the same time. Showing the parking aid lines "Parking aid lines" Pathway and turning lines are displayed. Showing the obstacle marking ...