Convertible: through-loading opening with integrated transport bag
The transport bag is designed for safe, clean transport of up to 4 pairs of standard skis or up to 2 snowboards.
With the transport bag you can stow skis up to a length of 6.6 ft/2.0 m. When skis of 6.6 ft/2.0 m length are loaded, the overall capacity of the ski bag is reduced due to its tapered design.

When using the transport bag, it is not permissible to transport passengers in the rear seats.
Loading
1. Pull the grip in the filler piece of the rear backrest up and take out the filler piece.
2. Place the filler piece onto the seat cushion with the backrest side facing up.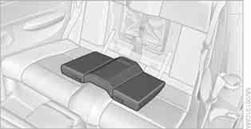 3. In the cargo area: press the two recesses together and fold down the cover.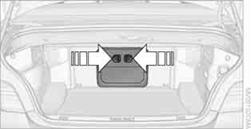 4. Release the strap, lay out the transport bag between the front seats and load it.
The zip fastener makes objects in the ski bag easier to reach.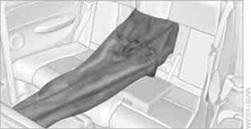 Ensure that the skis are clean when you load them into the transport bag. Wrap sharp edges to prevent damage.
Securing cargo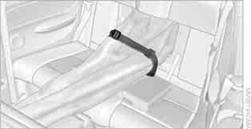 After loading, secure the transport bag and its contents. Tighten the retaining strap on the tensioning buckle for this purpose.

Secure the transport bag in the manner described; otherwise, it could endanger the car's occupants, e.g. in case of heavy braking or sudden swerving.
To store the transport bag, perform the steps described for loading in reverse order.
See also:
Unlocking and opening
▷ Either unlock the doors together using the button for the central locking system and then pull the door handle above the armrest or ▷ Pull the door opener twice individually on ...
Fold-out position of the wipers
Required when changing the wiper blades or under frosty conditions, for example. 1. Switch off the ignition. 2. Under frosty conditions, ensure that the wiper blades are not frozen onto the wind ...
Special destinations
Opening the search for special destinations To select special destinations, e.g., hotels or tourist attractions: 1. "Navigation" 2. "Points of Interest" 3. Select the searc ...