High beams/roadside parking lamps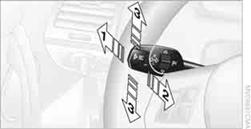 1 High beams
2 Headlamp flasher
3 Roadside parking lamps
Roadside parking lamps, left or rightThere is an additional option of switching on the lamps on the side of the car facing the road when parked.
Switching on
After parking the vehicle, press the lever up or down beyond the pressure point for approx.
1 second, arrow 3.

The roadside parking lamps drain the battery. Therefore, do not leave them on for unduly long periods of time; otherwise, the battery might not have enough power to start the engine.
Switching off
Press the lever in the opposite direction to the pressure point, arrow 3.
See also:
Integrated key
Press the button on the back of the remote control, arrow 1, and pull out the key, arrow 2. The integrated key fits the following locks: ► Driver's door. ► Glove compartment on t ...
Lane information
On multi-lane roads, the recommended lanes are marked in the arrow view by a triangle. ▷ Solid triangle: best lane. ▷ Empty triangle: possible lane. However, another lane change may ...
General information
The iDrive functions can be stored on the programmable memory buttons and called up directly, e.g., radio stations, navigation destinations, phone numbers and entry points into the menu. The ...