High beams/roadside parking lamps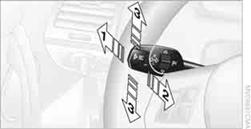 1 High beams
2 Headlamp flasher
3 Roadside parking lamps
Roadside parking lamps, left or rightThere is an additional option of switching on the lamps on the side of the car facing the road when parked.
Switching on
After parking the vehicle, press the lever up or down beyond the pressure point for approx.
1 second, arrow 3.

The roadside parking lamps drain the battery. Therefore, do not leave them on for unduly long periods of time; otherwise, the battery might not have enough power to start the engine.
Switching off
Press the lever in the opposite direction to the pressure point, arrow 3.
See also:
Switching the microphone to mute
When a call is active, the microphone can be muted. 1. "Telephone" 2. "Active calls" 3. "Microphone mute" A microphone that has been switched to mute is autom ...
Climate
1. Airflow directed toward the windshield and side windows 2. Air to the upper body area: Draft-free ventilation 3. Air to the footwell 4. Air distribution, manual 5.&nb ...
System limits
Sudden tire damage Sudden serious tire damage caused by external influences cannot be indicated in advance.◀ A natural, even pressure loss in all four tires cannot be detected. Therefore, ...