High beams/roadside parking lamps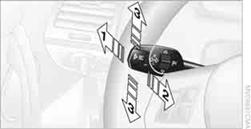 1 High beams
2 Headlamp flasher
3 Roadside parking lamps
Roadside parking lamps, left or rightThere is an additional option of switching on the lamps on the side of the car facing the road when parked.
Switching on
After parking the vehicle, press the lever up or down beyond the pressure point for approx.
1 second, arrow 3.

The roadside parking lamps drain the battery. Therefore, do not leave them on for unduly long periods of time; otherwise, the battery might not have enough power to start the engine.
Switching off
Press the lever in the opposite direction to the pressure point, arrow 3.
See also:
Destination guidance with trafficbulletins
General information Detour suggestions from the navigation system can be manually accepted in the semi-dynamic destination guidance. In the dynamic destination guidance, they are automatically acc ...
Steering wheel
General information Do not adjust while driving Do not adjust the steering wheel while driving; otherwise, an unexpected movement could result in an accident.◀ Manual steering wheel adju ...
General information
Enclosed areas Do not let the engine run in enclosed areas; otherwise, breathing of exhaust fumes may lead to loss of consciousness and death. The exhaust gases contain carbon monoxide, an od ...