High beams/roadside parking lamps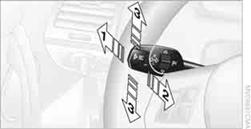 1 High beams
2 Headlamp flasher
3 Roadside parking lamps
Roadside parking lamps, left or rightThere is an additional option of switching on the lamps on the side of the car facing the road when parked.
Switching on
After parking the vehicle, press the lever up or down beyond the pressure point for approx.
1 second, arrow 3.

The roadside parking lamps drain the battery. Therefore, do not leave them on for unduly long periods of time; otherwise, the battery might not have enough power to start the engine.
Switching off
Press the lever in the opposite direction to the pressure point, arrow 3.
See also:
Control Display
Notes ▷ To clean the Control Display, follow the care instructions ▷ Do not place objects close to the Control Display; otherwise, the Control Display can be damaged. Switching of ...
Sound output
Switching on/off When the ignition is switched off: press ON/OFF button on the radio. Muting When the ignition is switched on or the engine is running: press the ON/OFF button on the radio. ...
Indicator/warning lamps
The indicator and warning lamps can light up in a variety of combinations and colors. Several of the lamps are checked for proper functioning and light up temporarily when the engine is start ...