Convertible: rollover protection system
The rollover protection system is activated automatically in the event of an accident, a critical driving situation, an extreme tilt in the car's longitudinal axis or upon loss of ground contact.
The protection bars behind the rear head restraints deploy within fractions of a second.
As a supplementary system to the reinforced windshield frame, the rollover protection system ensures that the necessary headroom is maintained for all vehicle occupants.

Always keep the area of movement of the rollover protection system clear.
In minor accidents, you are protected by the fastened safety belt and, depending on accident severity, by the safety belt tensioner and multi-phase airbag retention system.
Resetting
If the rollover protection system was not impacted after being automatically activated, it can be reset by lowering the protection bars to their original positions. This does not require tools.
1. Push the locking lever to one side and hold it there.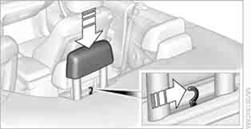 2. Push the protection bar halfway down from above.
3. Release the locking lever.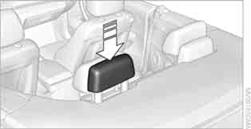 4. Push the protection bar down until it snaps into place.
5. Repeat the procedure for the other protection bar.
Have the rollover protection system checked after an unexpected activation.

If the rollover protective system is extended, do not operate the convertible top.
Do not make any modifications to the individual components of the rollover protection system or its cabling.
Work on the rollover protection system should only be performed by a BMW center.
Faulty repair may lead to the failure of the system or malfunctions.
To check the system and ensure flawless longterm operation, always observe the service intervals.
See also:
Cupholders
Notes Shatter-proof containers and no hot drinks Use light and shatter-proof containers and do not transport hot drinks. Otherwise, there is the increased danger of injury in an accident.` ...
Engine specifications
The rated power outputs are established on the basis of fuel grade AKI 91. ...
Washer/wiper system
Do not switch on the wipers if frozen<> Do not switch on the wipers if they are frozen onto the windshield; otherwise, the wiper blades and the windshield wiper motor may be damaged. ...