Washer fluid

Washer fluid is flammable. Therefore, keep it away from ignition sources and only store it in the closed original container that is kept out of reach of children; otherwise, there is a risk of personal injury. Comply with the instructions on the container.
Washer fluid filler neck

Only refill washer fluid when the engine is cool to avoid contact with hot engine parts. Otherwise, fluid spills constitute a fire hazard and a risk to personal safety.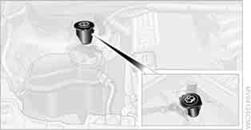 All washer nozzles are supplied with washer fluid by the same reservoir.
Fill with water and, if required, with a washer antifreeze, according to manufacturer's recommendations.

Mix the water and antifreeze before filling the washer fluid reservoir to make sure the correct concentration is maintained.
Capacity
Approx. 6.3 US quarts/6 liters.
See also:
Adjusting the info display
You can select what information from the computer is to be displayed on the info display of the instrument cluster. 1. "Settings" 2. "Info display" 3. Select the desired dis ...
Text messages
Calling the sender of a text message 1. Select the desired message. 2. Select the symbol. Saving the sender in the contacts 1. Highlight the desired message. 2. Open "Options". 3. &qu ...
Current fuel consumption
Current fuel consumption Displays the current fuel consumption. You can check whether you are currently driving in an efficient and environmentally-friendly manner. ...