Washer fluid

Washer fluid is flammable. Therefore, keep it away from ignition sources and only store it in the closed original container that is kept out of reach of children; otherwise, there is a risk of personal injury. Comply with the instructions on the container.
Washer fluid filler neck

Only refill washer fluid when the engine is cool to avoid contact with hot engine parts. Otherwise, fluid spills constitute a fire hazard and a risk to personal safety.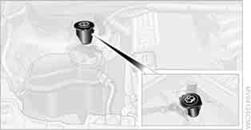 All washer nozzles are supplied with washer fluid by the same reservoir.
Fill with water and, if required, with a washer antifreeze, according to manufacturer's recommendations.

Mix the water and antifreeze before filling the washer fluid reservoir to make sure the correct concentration is maintained.
Capacity
Approx. 6.3 US quarts/6 liters.
See also:
Socket for OBD Onboard Diagnosis
There is an OBD socket on the driver's side for checking the primary components in the vehicle emissions. Emissions ▷ The warning lamp lights up: Emissions are deteriorating. Have th ...
Additional functions
General information Activate the functions before pairing to be able to use them in the vehicle. Information on suitable mobile phones, that support these functions. Additional telephone A mo ...
Switching the high beams on and off manually
Switching the high beams on and off manually ▷ High beams on, arrow 1. ▷ High beams off/headlamp flasher, arrow 2. To reactivate the High-beam Assistant, press the button on the t ...