Washer fluid

Washer fluid is flammable. Therefore, keep it away from ignition sources and only store it in the closed original container that is kept out of reach of children; otherwise, there is a risk of personal injury. Comply with the instructions on the container.
Washer fluid filler neck

Only refill washer fluid when the engine is cool to avoid contact with hot engine parts. Otherwise, fluid spills constitute a fire hazard and a risk to personal safety.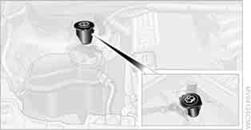 All washer nozzles are supplied with washer fluid by the same reservoir.
Fill with water and, if required, with a washer antifreeze, according to manufacturer's recommendations.

Mix the water and antifreeze before filling the washer fluid reservoir to make sure the correct concentration is maintained.
Capacity
Approx. 6.3 US quarts/6 liters.
See also:
Programming
▷ LED, arrow 1. ▷ Memory buttons, arrow 2. Fixed-code hand-held transmitters 1. Switch on the ignition. 2. Initial setup: Press the two outer memory buttons 1 and 3 for approx. 20 ...
Cargo
In wagon form, the 5 Series is quite utilitarian. There are a lot of convenient features I appreciated during my time with it. Chief among them was the cargo cover that raised and lowered when you ...
Automatic mode
The automatic engine start/stop function is operational after each engine start. The function is activated above a certain speed. ▷ Manual transmission: above 3 mph, approx. 5 km/h. ▷ ...