Washer fluid

Washer fluid is flammable. Therefore, keep it away from ignition sources and only store it in the closed original container that is kept out of reach of children; otherwise, there is a risk of personal injury. Comply with the instructions on the container.
Washer fluid filler neck

Only refill washer fluid when the engine is cool to avoid contact with hot engine parts. Otherwise, fluid spills constitute a fire hazard and a risk to personal safety.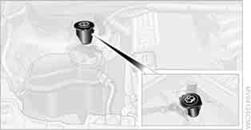 All washer nozzles are supplied with washer fluid by the same reservoir.
Fill with water and, if required, with a washer antifreeze, according to manufacturer's recommendations.

Mix the water and antifreeze before filling the washer fluid reservoir to make sure the correct concentration is maintained.
Capacity
Approx. 6.3 US quarts/6 liters.
See also:
General information
Do not adjust while driving Do not adjust the steering wheel while driving; otherwise, an unexpected movement could result in an accident.◀ ...
Front lamps, bulb replacement
Halogen headlamps Halogen headlamps 1 Parking lamps 2 High beams/headlamp flasher 3 Low beams 4 Turn signal 5 Daytime running lights Accessing the turn signals and low beams Follow the Gener ...
Message when the system was not reset
A Check Control message is displayed. The system detected a wheel change but was not reset. Warnings regarding the current tire inflation pressure are not reliable. Check the tire inflation pre ...