Washer fluid

Washer fluid is flammable. Therefore, keep it away from ignition sources and only store it in the closed original container that is kept out of reach of children; otherwise, there is a risk of personal injury. Comply with the instructions on the container.
Washer fluid filler neck

Only refill washer fluid when the engine is cool to avoid contact with hot engine parts. Otherwise, fluid spills constitute a fire hazard and a risk to personal safety.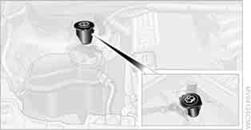 All washer nozzles are supplied with washer fluid by the same reservoir.
Fill with water and, if required, with a washer antifreeze, according to manufacturer's recommendations.

Mix the water and antifreeze before filling the washer fluid reservoir to make sure the correct concentration is maintained.
Capacity
Approx. 6.3 US quarts/6 liters.
See also:
The concept
The Check Control system monitors functions in the vehicle and notifies you of malfunctions in the monitored systems. A Check Control message is displayed as a combination of indicator or warni ...
Locking separately
The trunk lid can be locked separately with the switch in the front passenger glove compartment. ▷ Trunk lid secured, arrow 1. ▷ Trunk lid not secured, arrow 2. Slide the switch int ...
Following the initial pairing
► The mobile phone is detected/connected in the vehicle within a short period of time when the engine is running or the ignition is switched on. ► The phone book entries of the telepho ...