Washer fluid

Washer fluid is flammable. Therefore, keep it away from ignition sources and only store it in the closed original container that is kept out of reach of children; otherwise, there is a risk of personal injury. Comply with the instructions on the container.
Washer fluid filler neck

Only refill washer fluid when the engine is cool to avoid contact with hot engine parts. Otherwise, fluid spills constitute a fire hazard and a risk to personal safety.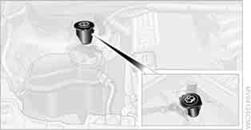 All washer nozzles are supplied with washer fluid by the same reservoir.
Fill with water and, if required, with a washer antifreeze, according to manufacturer's recommendations.

Mix the water and antifreeze before filling the washer fluid reservoir to make sure the correct concentration is maintained.
Capacity
Approx. 6.3 US quarts/6 liters.
See also:
Winter tires
Do not drive with a tire tread depth of less than 0.16 in/4 mm. Below a tread depth of 0.16 in/4 mm, tires are less suitable for winter operation. ...
The concept
The system is functional at speeds beginning at approx. 20 mph/30 km/h. It maintains the speed that was set using the control elements on the steering wheel. The system brakes on downhill gradie ...
Unpairing a device
1. "Telephone" 2. "Bluetooth® (phone)" 3. Highlight the device that is to be unpaired. 4. Open "Options". 5. "Remove phone from list" ...