Manual transmission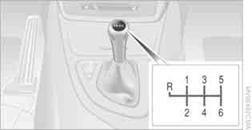 When shifting into 5th or 6th gear, press the gearshift lever to the right. Otherwise, the engine could be damaged if you inadvertently shift into 3rd or 4th gear.
Reverse gear
Select this only when the vehicle is stationary. When the gearshift lever is pressed to the left, a slight resistance has to be overcome.
See also:
Opening and closing: From inside
This button serves to unlock or lock doors and the trunk lid, but does not activate the anti-theft system. The fuel filler flap remains unlocked. Automatic lockingYou can also set the situations ...
High-visibility innovation: Adaptive LED Headlights.
The new BMW 6-Series Coupe is equipped with bi-xenon headlights as standard. An accentuating trim element cuts across the top of the hallmark BMW twin round headlights to produce the intent look f ...
Ventilation in rear, center
Thumbwheels* for adjusting the temperature, arrows 1. Toward blue: colder. Toward red: warmer. Lever for changing the air flow direction, arrow 2. Thumbwheels for opening and closin ...