Installing child restraint systems

Observe the child restraint system manufacturer's instructions when selecting, installing and using child restraint systems. Otherwise, the protective effect may be diminished.
Standard child restraint systems are designed to be secured with a lap belt or with the lap-belt section of a lap-and-shoulder belt. Incorrectly
or improperly installed child restraint systems can increase the risk of injury to children. Always follow the installation instructions for the system with the greatest care.
On the front passenger seat

After installing a child restraint system on the front passenger seat, make sure that the front and side airbags for the front passenger are deactivated; otherwise, there is an increased risk of injury if the airbags deploy.
Seat position
Before installing a child restraint system, move the front passenger seat as far back and up as possible to obtain the best possible position for the belt. Do not change the seat position after this.
Backrest width

The backrest width of the front passenger seat must be at its widest possible setting. Do not change the setting after installing the child seat; otherwise, the child seat's stability on the front passenger seat is limited.
1. Adjust the backrest width to its widest setting.
2. Install the child seat.
Child seat security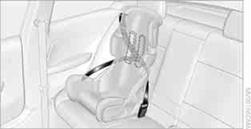 The rear safety belts and the front passenger safety belt can be prevented from being pulled out in order to fasten child restraint systems.
To lock the safety belt
1. Secure the child restraint system with the belt.
2. Pull the belt strap all the way out.
3. Allow the belt strap to retract and pull it taut against the child restraint system.
The safety belt is locked.
To unlock the safety belt
1. Open the belt buckle.
2. Remove the child restraint system.
3. Allow the safety belt strap to retract all the way.
See also:
On-demand control of ancillary units saves energy
Intelligent energy management in the new BMW 3-Series is further enhanced by the ancillary units, which consume significantly less energy compared with conventional systems. Examples include the o ...
System limits
Speed range Best results are achieved when using the system on well-developed roads and highways. The desired speed can be selected between 20 mph/30 km/h to 110 mph/180 km/h. The system can al ...
Parked-car ventilation
The concept The parked-car ventilation ventilates the vehicle interior and lowers its temperature, if necessary. The system can be switched on and off directly or by using two preset switch-on t ...