Split screen
General information
Additional information can be displayed on the right side of the split screen, e.g., information from the computer.
In the divided screen view, the so-called split screen, this information remains visible even when you change to another menu.
Switching the split screen on and off
1.

Press the button
2. "Split screen"
Selecting the display
1.

Press the button
2. "Split screen"
3. Move the controller until the split screen is selected.
4. Press the controller or select "Split screen content".
5. Select the desired menu item.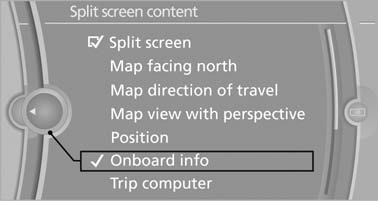 Select the desired menu item
See also:
The concept
The iDrive combines the functions of a multitude of switches. Thus, these functions can be operated from a central location. Using the iDrive during a trip To avoid becoming distracted and posi ...
Turn signals, front
24-watt bulb, PY24W 1. Rotate bulb holder to the left and remove it along with the bulb. Turn signals, front 2. Rotate the bulb to the right along with the socket and replace. 3. Install in ...
Entering the postal code
1. Select "Town/City/Postal Code" or the displayed town/city. 2. Select the symbol. 3. Select the numbers. 4. Change to the list of postal codes and towns/ cities. 5. Highlight th ...