Opening the Options menu

Press the button
The "Options" menu is displayed.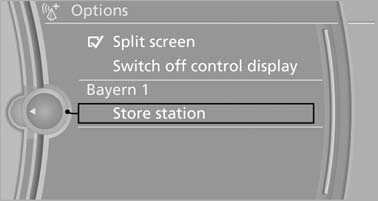 The "Options" menu is displayed
Additional options: move the controller to the right repeatedly until the "Options" menu is displayed.
Options menu
The "Options" menu consists of various areas:
▷ Screen settings, e.g., "Switch off control display".
▷ Control options for the selected main menu, e.g., for "Radio".
▷ If applicable, further operating options for the selected menu, for instance "Store station".
See also:
Status field
The following information is displayed in the status field at the top right: ▷ Time. ▷ Current entertainment source. ▷ Sound output, on/off. ▷ Wireless network reception ...
Storage compartment
A storage compartment is located under the armrest between the front seats and, depending on the vehicle's equipment, also a cover for the mobile phone cradle or the snap-in adapter. Details on ...
Opening/closing the glass sunroof and sliding visor together
▷ Slide switch back to the resistance point and hold. Glass sunroof and sliding visor open together as long as the switch is held down. ▷ Press switch back past the resistance po ...