Opening the Options menu

Press the button
The "Options" menu is displayed.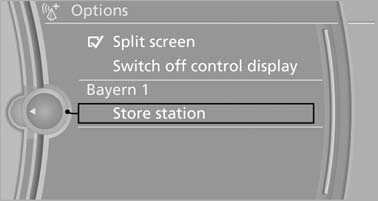 The "Options" menu is displayed
Additional options: move the controller to the right repeatedly until the "Options" menu is displayed.
Options menu
The "Options" menu consists of various areas:
▷ Screen settings, e.g., "Switch off control display".
▷ Control options for the selected main menu, e.g., for "Radio".
▷ If applicable, further operating options for the selected menu, for instance "Store station".
See also:
Buttons at a glance
1. System on/off, interrupt 2. Resume speed 3. Store speed 4. Reduce distance 5. Store, maintain/change speed 6. Increase distance ...
Requirements
▷ A suitable mobile phone is paired with the vehicle and connected. In some mobile phones, data access must be confirmed on the mobile phone. ▷ The time, time zone, and date, refer ...
Status field symbols
The symbols are grouped into various categories. Radio symbols Symbol Meaning Traffic bulletins switched on. HD Radio is switched on. Satellite radio ...