Opening the Options menu

Press the button
The "Options" menu is displayed.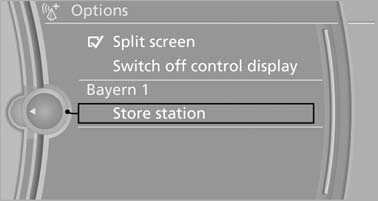 The "Options" menu is displayed
Additional options: move the controller to the right repeatedly until the "Options" menu is displayed.
Options menu
The "Options" menu consists of various areas:
▷ Screen settings, e.g., "Switch off control display".
▷ Control options for the selected main menu, e.g., for "Radio".
▷ If applicable, further operating options for the selected menu, for instance "Store station".
See also:
Display on the Control Display
Display the computer or trip computer on the Control Display. 1. "Vehicle Info" 2. "Onboard info" or "Trip computer" Resetting the fuel consumption or speed 1. &q ...
General information
Antifreeze for washer fluid Antifreeze is flammable. Therefore, keep it away from sources of ignition. Only keep it in the closed original container and inaccessible to children. Follow the i ...
Notes on Emergency Requests
Do not use the voice activation system to initiate an Emergency Request. In stressful situations, the voice and vocal pitch can change. This can unnecessarily delay the establishment of a teleph ...