Run-flat tires
Label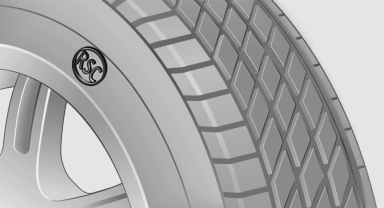 RSC label on the tire sidewall.
The wheels are composed of special rims and tires that are self-supporting, to a limited degree.
The support of the sidewall allows the tire to remain drivable to a restricted degree in the event of a pressure loss.
Continued driving with a damaged tire, refer to page 98.
Continued driving with a damaged tire, refer to page 95.
Changing run-flat tires
For your own safety, only use run-flat tires. No spare tire is available in the case of a flat tire. Your service center will be glad to advise you.
See also:
Storage periods
Storage periods during which the vehicle battery was disconnected are not taken into account. If this occurs, have a service center update the time-dependent maintenance procedures, such as che ...
Displays in the instrument cluster
1 Display of desired speed 2 Indicator lamp 3 Brief status display Desired speed Display in the speedometer: The marking lights up in green: the system is active. The marking lights u ...
Washer fluid reservoir
Adding washer fluid Only add washer fluid when the engine is cool, and then close the cover completely to avoid contact between the washer fluid and hot engine parts. Otherwise, there is the ...