BMW Search
At a glance
A business search can be opened via BMW Search.
License conditions This product contains NetFront Browser software of ACCESS Co., Ltd. Copyright © 2007 ACCESS Co., Ltd. All rights reserved.
NetFront is a trademark or registered trademark of ACCESS CO., LTD., in Japan and other countries.
This software is based in part on the work of the Independent JPEG Group.
Requirements
► Subscription to the optional Convenience Plan.
► The date setting, on the Control Display is current.
► The vehicle is located within wireless network coverage.
Starting BMW Search
1. "BMW Assist" or "ConnectedDrive"
2. "BMW Online"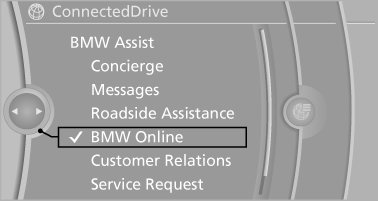 3. If necessary, "OK".
The BMW Search home page is displayed.
Operating BMW Search
To start a search:
► Turn the controller to highlight an element.
► Press the controller to display an element.
Opening the start page
1. "Options" Open.
2. "Display start page"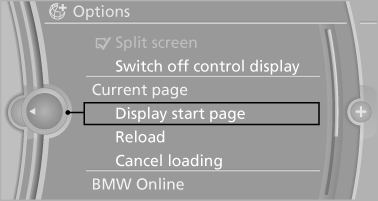 Loading a new page
1. "Options" Open.
2. "Update"
Cancel
1. "Options" Open.
2. "Cancel loading"
See also:
Disposal
Comply with the relevant environmental protection regulations when disposing of coolant and coolant additives. ...
Drive away without delay
Do not wait for the engine to warm up while the vehicle remains stationary. Start driving right away, but at moderate engine speeds. This is the fastest way for the cold engine to reach its ope ...
Opening the tone settings inthe Options menu
1. "CD/Multimedia" or "Radio" 2. If necessary, select additional entries, for example, "FM" or "CD/DVD". 3. Open "Options". 4. "Tone" 5 ...