BMW Search
At a glance
A business search can be opened via BMW Search.
License conditions This product contains NetFront Browser software of ACCESS Co., Ltd. Copyright © 2007 ACCESS Co., Ltd. All rights reserved.
NetFront is a trademark or registered trademark of ACCESS CO., LTD., in Japan and other countries.
This software is based in part on the work of the Independent JPEG Group.
Requirements
► Subscription to the optional Convenience Plan.
► The date setting, on the Control Display is current.
► The vehicle is located within wireless network coverage.
Starting BMW Search
1. "BMW Assist" or "ConnectedDrive"
2. "BMW Online"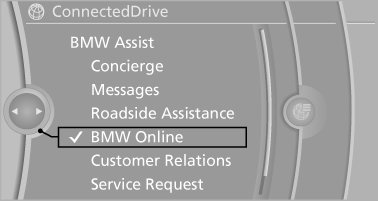 3. If necessary, "OK".
The BMW Search home page is displayed.
Operating BMW Search
To start a search:
► Turn the controller to highlight an element.
► Press the controller to display an element.
Opening the start page
1. "Options" Open.
2. "Display start page"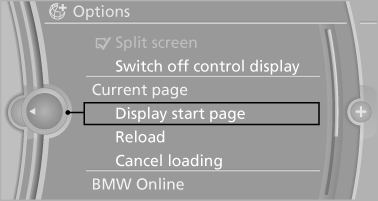 Loading a new page
1. "Options" Open.
2. "Update"
Cancel
1. "Options" Open.
2. "Cancel loading"
See also:
Temperature
Turn the wheel to set the desired temperature. The automatic climate control achieves this temperature as quickly as possible, if necessary with the maximum cooling or heating capacity, an ...
Observe the following when refueling
The fuel tank is full when the filler nozzle clicks off the first time. Handling fuels Obey safety regulations posted at the gas station.◀ ...
Buttons on the remote control
Buttons on the remote control 1 Unlocking 2 Locking 3 Opening the trunk lid 4 Panic mode in alarm system ...