BMW Search
At a glance
A business search can be opened via BMW Search.
License conditions This product contains NetFront Browser software of ACCESS Co., Ltd. Copyright © 2007 ACCESS Co., Ltd. All rights reserved.
NetFront is a trademark or registered trademark of ACCESS CO., LTD., in Japan and other countries.
This software is based in part on the work of the Independent JPEG Group.
Requirements
► Subscription to the optional Convenience Plan.
► The date setting, on the Control Display is current.
► The vehicle is located within wireless network coverage.
Starting BMW Search
1. "BMW Assist" or "ConnectedDrive"
2. "BMW Online"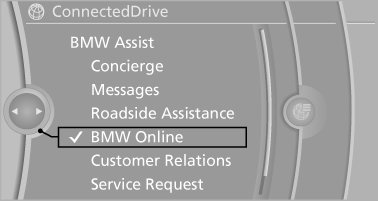 3. If necessary, "OK".
The BMW Search home page is displayed.
Operating BMW Search
To start a search:
► Turn the controller to highlight an element.
► Press the controller to display an element.
Opening the start page
1. "Options" Open.
2. "Display start page"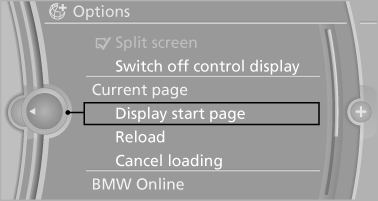 Loading a new page
1. "Options" Open.
2. "Update"
Cancel
1. "Options" Open.
2. "Cancel loading"
See also:
Connecting a particular mobile phone
If more than one mobile phone is detected by the vehicle, the mobile phone at the top of the list is connected. If a different detected cell phone is connected with the vehicle. A different mobi ...
Image on the Control Display
Switching on the rear view camera using iDrive With Top View activated: "Rear view camera" The image of the rear view camera is displayed. The setting is stored for the ...
CD changer
The BMW CD changer for six CDs is behind the left side panel in the cargo area. Removing the CD magazineTo insert or remove CDs from the CD magazine, you must first remove it from the CD changer: ...