Calendar
Display the calendar
Appointments during the last 20 and the next 50 days can be displayed.
1. "Office"
2. "Calendar"
The appointments on the current day are displayed.
Selecting the calendar day
1. Select the date.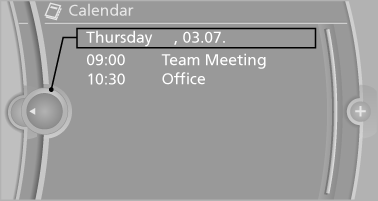 2. Select the desired day or date.
► "Next day"
► "Date:"
► "Previous day"
► "Today"
Display the appointment
1. Select the desired appointment.
2. Scroll through the appointment if necessary:
► Turn the controller.
►
Select the symbol.
Using contact data
Contact data from appointments, tasks, text messages, e-mails and notes can be saved or selected.
Reading the appointment out loud
Read the appointment out loud.
See also:
BMW X5 with BMW Advanced Diesel:
required fuel
Ultra-Low Sulfur Diesel The engine of your BMW is designed for diesel with a low sulfur content: Ultra-low sulfur diesel ASTM D 975-07a. Only refuel with ultra-low sulfur diesel. The percentag ...
Wheel and tire combination
Information on the right wheel and tire combination and rim version for your vehicle can be obtained from the service center. Incorrect wheel and tire combinations impair the function of a vari ...
Radio ready state and ignition off
All indicator and warning lamps as well as displays in the instrument cluster go out. Transmission position P with the ignition off When the ignition is switched off, position P is engaged a ...