Received calls
Displaying calls
The 20 calls that were last received are displayed.
1. "Telephone"
2. "Received calls"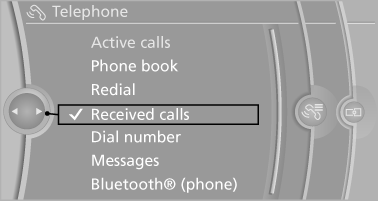 Calling a number from the list
Selecting an entry.
The connection is established.
Deleting a single entry or all entries
The erasure of entries depends on the mobile phone.
1. Highlight the entry.
2. Open "Options".
3. "Delete entry" or"Delete list"
Saving an entry in the contacts
1. Highlight the entry.
2. Open "Options".
3. "Store as new contact" or "Add to existing contact"
4. Select the contact, if necessary
5. Select the type of number: "Home", "Business", "Mobile" or "Other"
6. Complete the entries if necessary.
7. "Store contact"
See also:
Category search
1. "Category search" 2. "Town/City" 3. Select or enter the town/city. 4. "Category" 5. Select the category. 6. "Category details" For some special destina ...
View of an opened menu
When a menu is opened, it generally opens with the panel that was last selected in that menu. To display the first panel of a menu: ▷ Move the controller to the left repeatedly until the ...
Switching the wipers on/off and brief wipe
Do not switch on the wipers if frozen Do not switch on the wipers if they are frozen onto the windshield; otherwise, the wiper blades and the windshield wiper motor may be damaged.◀ Swi ...