Cupholders
Notes

Shatter-proof containers and no hot drinks
Use light and shatter-proof containers and do not transport hot drinks. Otherwise, there is the increased danger of injury in an accident.◄

Unsuitable containers
Do not forcefully push unsuitable containers into the cupholders. This may result in damage.◄
Front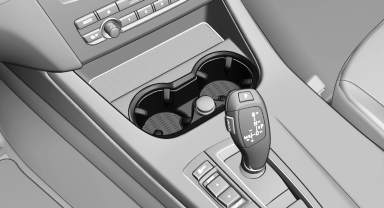 Storage compartment in the front cupholder
Use the inserts for the cupholder as an additional storage compartment. Place the inserts into the cupholder and snap them in place.
Only use the storage compartment for small objects such as keys.
Rear
In the center armrest.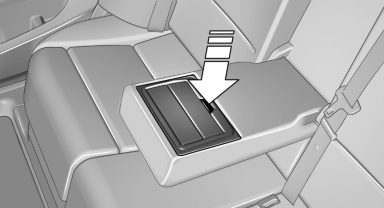 Pull the center armrest forward at the strap.
To open: press the button.
To close: push both covers back in, one after the other.

Pushing back the covers
Push back the covers before folding up the center armrest; otherwise, the cupholder could become damaged.◄
See also:
Malfunction
In the event of a failure or malfunction of the parking brake, secure the vehicle against rolling using a wheel chock, for example, when leaving it. ...
Tire identification marks
Tire size 255/50 R 19 103 Y 255: nominal width in mm 50: aspect ratio in % R: radial tire code 19: rim diameter in inches 103: load rating, not for ZR tires Y: speed rating, before the R on ZR ...
Switching the interior lamps on and off
Switching the interior lamps on and off Press the button. To switch off permanently: press the button for approx. 3 seconds. To clear this setting: briefly press the button. ...