Cupholders
Notes

Shatter-proof containers and no hot drinks
Use light and shatter-proof containers and do not transport hot drinks. Otherwise, there is the increased danger of injury in an accident.◄

Unsuitable containers
Do not forcefully push unsuitable containers into the cupholders. This may result in damage.◄
Front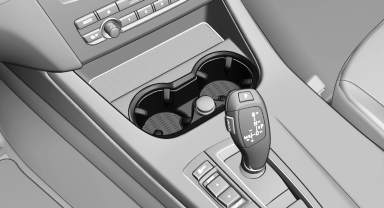 Storage compartment in the front cupholder
Use the inserts for the cupholder as an additional storage compartment. Place the inserts into the cupholder and snap them in place.
Only use the storage compartment for small objects such as keys.
Rear
In the center armrest.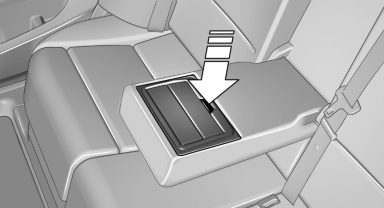 Pull the center armrest forward at the strap.
To open: press the button.
To close: push both covers back in, one after the other.

Pushing back the covers
Push back the covers before folding up the center armrest; otherwise, the cupholder could become damaged.◄
See also:
System limits
Be alert Due to system limitations, warnings may be not be issued at all, or may be issued late or improperly. Therefore, always be alert and ready to intervene; otherwise, there is the danger ...
Entering a street and intersection
1. Select "Street" or the displayed street. 2. Enter a street and intersection in the sameway as you would enter a town/city. If there are several streets with the same name: 1. Change ...
Automatic Service Request
The TeleService data necessary for servicing the vehicle are automatically sent to your service partner prior to the service deadline. If possible, the service partner will contact you and a ser ...