Selection lists in theinstrument cluster
The concept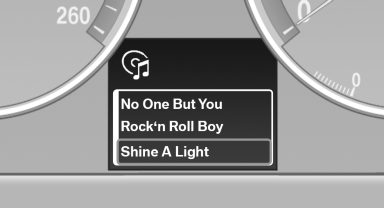 The following can be operated using the buttons and the thumbwheel on the steering wheel and the display in the instrument cluster:
► Current audio source.
► Redial on telephone.
► Activation of the voice activation system.
Activating a list and adjusting the setting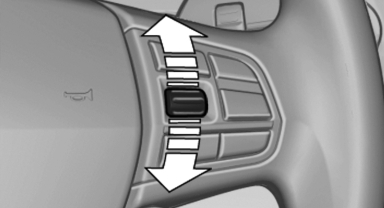 On the right side of the steering wheel, turn the thumbwheel to activate the corresponding list.
Using the thumbwheel, select the desired setting and confirm it by pressing the thumbwheel.
See also:
Managing a subscription
To be able to enable or unsubscribe from the channels, you must have reception. It is usually at its best when you have an unobstructed view of the sky. The channel name is displayed in the st ...
AUTO program
Press the button. Air volume, air distribution, and temperature are controlled automatically: Depending on the selected temperature, AUTO intensity, and outside influences, the air is directed ...
System limits
Sudden tire damage Sudden serious tire damage caused by external influences cannot be indicated in advance.◄ The system does not operate correctly if it has not been reset. For example, a f ...