Tow fitting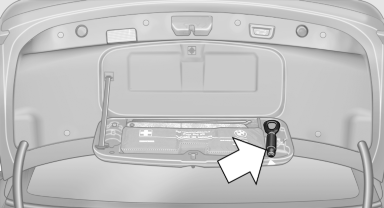 The screw-in tow fitting should always be carried in the vehicle. It can be screwed in at the front or rear of the BMW. It is located in the container on the inside of the trunk lid.

Tow fitting, information on use
▷ Use only the tow fitting provided with the vehicle and screw it all the way in.
▷ Use the tow fitting for towing on paved roads only.
▷ Avoid lateral loading of the tow fitting, e.g., do not lift the vehicle by the tow fitting.
Otherwise, damage to the tow fitting and the vehicle can occur.◀
See also:
Adjusting volume
Turn the volume knob during the spoken instruction to select the desired volume. > The volume remains the same, even if the volume of other audio sources is changed. > The volume is stored for ...
Headlamp range control
With halogen headlamps, the headlamp range of the low beams can be manually adjusted for the vehicle load to avoid blinding oncoming traffic. The values following the slash apply to trailer oper ...
Automatic Service Request
The Teleservice data necessary for servicing the vehicle are automatically sent to your BMW center prior to the service deadline. If possible, the center will contact you and a service appointment ...