Socket for OBD Onboard Diagnosis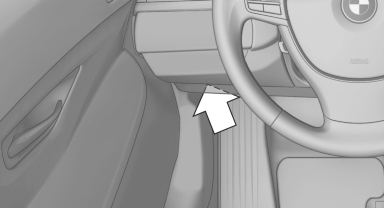 There is an OBD socket on the driver's side for checking the primary components in the vehicle emissions.
Emissions

▷ The warning lamp lights up:
Emissions are deteriorating. Have the vehicle checked as soon as possible.

Canadian model: warning light indicates the engine symbol.
▷ The warning lamp flashes under certain circumstances:
This indicates that there is excessive misfiring in the engine.
Reduce the vehicle speed and have the system checked immediately; otherwise, serious engine misfiring within a brief period can seriously damage emission control components, in particular the catalytic converter.
Fuel cap

The indicator lamp lights up.
If the fuel cap is not properly tightened, the OBD system may conclude that fuel vapor is escaping. If the cap is then tightened, the display should go out in a short time.
See also:
Ignition lock
Insert the remote control into the ignition lock Insert the remote control all the way into the ignition lock. > Radio readiness is switched on. Individual electrical consumers can operate. C ...
Equalizer
Setting for individual audio frequency ranges. Adjusting the equalizer 1. "CD/Multimedia", "Radio" or "Settings" 2. "Tone" 3. "Equalizer" 4. Sele ...
Reminders
Displaying reminders Reminders of pending appointments and tasks are displayed. After an appointment or after a task is due, the reminder is no longer displayed. 1. "Office" 2. " ...