Socket for OBD Onboard Diagnosis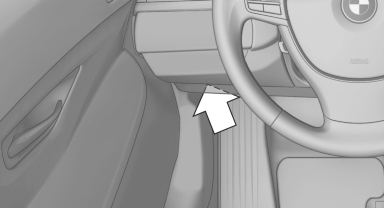 There is an OBD socket on the driver's side for checking the primary components in the vehicle emissions.
Emissions

▷ The warning lamp lights up:
Emissions are deteriorating. Have the vehicle checked as soon as possible.

Canadian model: warning light indicates the engine symbol.
▷ The warning lamp flashes under certain circumstances:
This indicates that there is excessive misfiring in the engine.
Reduce the vehicle speed and have the system checked immediately; otherwise, serious engine misfiring within a brief period can seriously damage emission control components, in particular the catalytic converter.
Fuel cap

The indicator lamp lights up.
If the fuel cap is not properly tightened, the OBD system may conclude that fuel vapor is escaping. If the cap is then tightened, the display should go out in a short time.
See also:
Functional requirements
The system must have been reset when the inflation pressure was correct; otherwise, reliable signaling of a flat tire is not ensured. Always use wheels with TPM electronics to ensure that the ...
Temperature
Turn the wheel to set the desired temperature. The automatic climate control achieves this temperature as quickly as possible, if necessary with the maximum cooling or heating capacity, and ...
Leather care
Remove dust from the leather often, using a cloth or vacuum cleaner. Otherwise, particles of dust and road grime chafe in pores and folds, and lead to increased wear and premature degradation o ...