Socket for OBD Onboard Diagnosis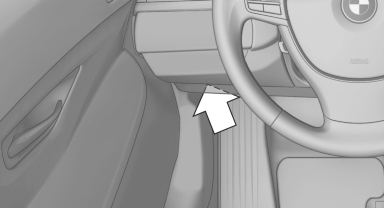 There is an OBD socket on the driver's side for checking the primary components in the vehicle emissions.
Emissions

▷ The warning lamp lights up:
Emissions are deteriorating. Have the vehicle checked as soon as possible.

Canadian model: warning light indicates the engine symbol.
▷ The warning lamp flashes under certain circumstances:
This indicates that there is excessive misfiring in the engine.
Reduce the vehicle speed and have the system checked immediately; otherwise, serious engine misfiring within a brief period can seriously damage emission control components, in particular the catalytic converter.
Fuel cap

The indicator lamp lights up.
If the fuel cap is not properly tightened, the OBD system may conclude that fuel vapor is escaping. If the cap is then tightened, the display should go out in a short time.
See also:
Communication
All of the options available to you for mobile communication with family, friends, business partners, and service providers are described in this chapter. ...
General information
TeleService supports communication with your service center. ▷ Data on the vehicle's service requirements can be sent directly to the service center. In this way, the service center can p ...
Gas station recommendation
The remaining range is calculated, and if necessary gas stations along the route are displayed. Even with the most current navigation data, information regarding individual gas stations may have ...