Tire tread
Summer tires
Do not drive with a tire tread depth of less than 0.12 in/3 mm.
There is an increased danger of hydroplaning if the tread depth is less than 0.12 in/3 mm.
Winter tires
Do not drive with a tire tread depth of less than 0.16 in/4 mm.
Below a tread depth of 0.16 in/4 mm, tires are less suitable for winter operation.
Minimum tread depth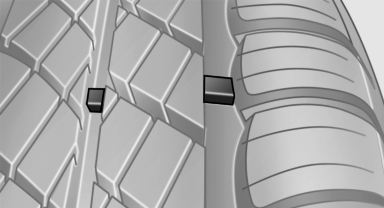 Wear indicators are distributed around the tire's circumference and have the legally required minimum height of 0.063 in/1.6 mm.
They are marked on the side of the tire with TWI, Tread Wear Indicator.
See also:
Vehicle care
Car care products BMW recommends using cleaning and care products from BMW, since these have been tested and approved. Car care and cleaning products Follow the instructions on the container. ...
Swapping the telephone and additionaltelephone
The function of the telephone and additional telephone can be swapped automatically. 1. "Telephone" 2. "Bluetooth® (phone)" 3. "Swap phone/addit. phone" ...
Activating the assistance functions
More than one assistance function can be active at the same time. Showing the parking aid lines "Parking aid lines" Pathway and turning circle lines are displayed. Showing the obstacl ...