Tire tread
Summer tires
Do not drive with a tire tread depth of less than 0.12 in/3 mm.
There is an increased danger of hydroplaning if the tread depth is less than 0.12 in/3 mm.
Winter tires
Do not drive with a tire tread depth of less than 0.16 in/4 mm.
Below a tread depth of 0.16 in/4 mm, tires are less suitable for winter operation.
Minimum tread depth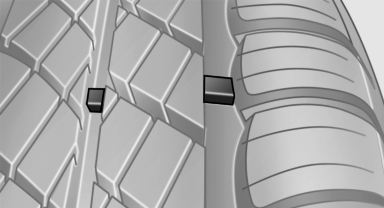 Wear indicators are distributed around the tire's circumference and have the legally required minimum height of 0.063 in/1.6 mm.
They are marked on the side of the tire with TWI, Tread Wear Indicator.
See also:
Preventing an automatic engine stopwith automatic transmission
The concept To make it possible to drive away very quickly, such as at an intersection, the automatic engine stop can be actively prevented. Preventing an engine stop using the brake pedal The e ...
The concept
ECO PRO supports a driving style that saves on fuel consumption. For this purpose, the engine control and comfort functions, e. g. the climate control output, are adjusted. In addition, context ...
General information
The engine oil consumption is dependent on the driving style and driving conditions. Therefore, check the engine oil level after every refueling using the electronic engine oil level check. ...