BMW Search
At a glance
A business search can be opened via BMW Search.
License conditions This product contains NetFront Browser software of ACCESS Co., Ltd. Copyright © 2007 ACCESS Co., Ltd. All rights reserved.
NetFront is a trademark or registered trademark of ACCESS CO., LTD., in Japan and other countries.
This software is based in part on the work of the Independent JPEG Group.
Requirements
▷ Subscription to the optional Convenience Plan.
▷ The date setting, on the Control Display is current.
▷ The vehicle is located within wireless network coverage.
Starting BMW Search
1. "BMW Assist" or "ConnectedDrive"
2. "BMW Online"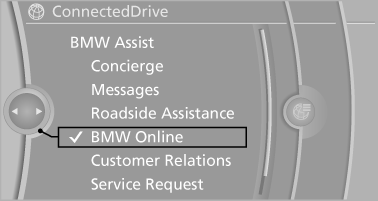 3. If necessary, "OK".
The BMW Search home page is displayed.
Operating BMW Search
To start a search:
▷ Turn the controller to highlight an element.
▷ Press the controller to display an element.
Opening the start page
1. "Options" Open.
2. "Display start page"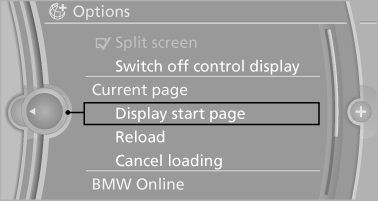 Loading a new page
1. "Options" Open.
2. "Update"
Cancel
1. "Options" Open.
2. "Cancel loading"
See also:
Exterior mirrors
General information The mirror on the passenger side is more curved than the driver's mirror. Estimating distances correctly Objects reflected in the mirror are closer than they appear. Do no ...
Roadside Assistance
BMW Roadside Assistance is available by phone around the clock in many countries. You can obtain support there in the event of a breakdown. ...
Computer
Displays in the instrument clusterCalling up information Press the button in the turn signal/high beam lever. The following items of information are displayed in the order listed: > Cruising ...