My contacts
General information
List of all contacts stored in the vehicle.
Displaying contacts
1. "Contacts"
2. "My contacts"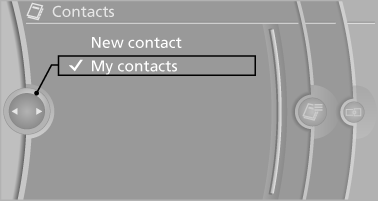 All contacts are listed in alphabetical order. Depending on the number of contacts, an A-Z search is offered
A symbol indicates the storage location of the contacts: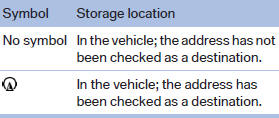 Editing a contact
1. Select the desired contact.
2. "Edit contact"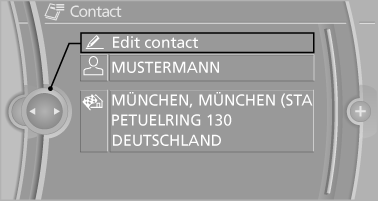 3. Change the entries.
4. Move the controller to the left.
5. "Yes"
Selecting the contact as a navigation destination
1. Select the desired contact.
2. Select the address.
3. "Start guidance" or "Add as another destination"
Checking the address as a destination
An address that is to be used for destination guidance must match the navigation data contained in the vehicle. The address can be checked for this purpose.
1. Select the desired contact and highlight the address.
2. "Options" Open.
3. "Check as destination"
4. Correct and store the address if necessary
Selecting the sorting order of the names
Names can be displayed in a different order.
1. "My contacts"
2. "Options" Open.
3. "Display: last, first name" or "Display: first, last name"
Exporting/importing contacts
Contacts can be exported and imported via the Personal Profile
Deleting contacts
1. "My contacts"
2. Highlight the contact.
3. "Options" Open.
4. "Delete contact" or "Delete all contacts"
See also:
Special windshield
The windshield is part of the system. The shape of the windshield makes it possible to display a precise image. A film in the windshield prevents double images from being displayed. Therefore, ...
Switching the warning function on/off
Switching the warning function on/off Press the button ▷ On: the LED lights up. ▷ Off: the LED goes out. The state is stored for the remote control currently in use. ...
DTMF suffix dialing
DTMF suffix dialing can be used for gaining access to network services or for controlling devices, e.g., to make a remote inquiry of an answering machine. The DTMF code is needed for this purp ...