New contact
1. "Contacts"
2. "New contact"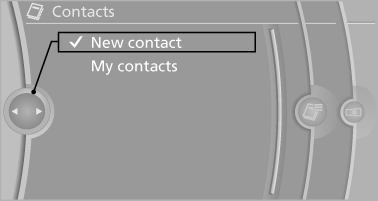 3. The entry fields are still filled with the previous entries: "Delete input fields"
4. Fill in the entry fields: select the symbol next to the entry field.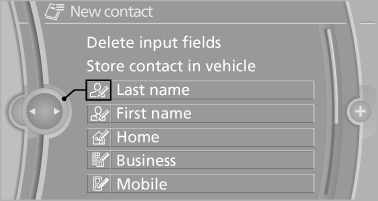 5. Enter the text.
6. If the vehicle is equipped with a navigation system: Enter the address. Only addresses contained in the navigation data in the vehicle can be entered. This ensures that destination guidance is possible for all addresses.
7. If necessary, "Store".
8. "Store contact in vehicle"
Specifying the home address
A home address can be stored. It appears at the top of the contact list.
1. "Home"
2. Create a contact.
3. "Store contact in vehicle"
See also:
Notes
> Reception may not be available in some situations, such as under certain environmental or topographic conditions. The satellite radio cannot influence this. > The signal may not be availabl ...
Managing the favorites
Activating/deactivating the favorites Favorites can be activated and deactivated globally and individually. 1. "Satellite radio" 2. "Manage favorites" 3. Select "Activa ...
Switching the reception on/off
1. "Navigation" 2. Open "Options". 3. "Receive Traffic Info" ...