New contact
1. "Contacts"
2. "New contact"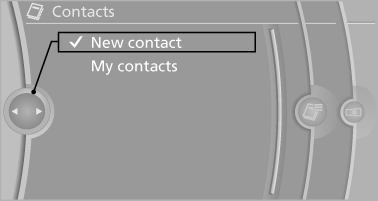 3. The entry fields are still filled with the previous entries: "Delete input fields"
4. Fill in the entry fields: select the symbol next to the entry field.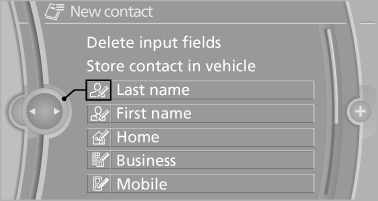 5. Enter the text.
6. If the vehicle is equipped with a navigation system: Enter the address. Only addresses contained in the navigation data in the vehicle can be entered. This ensures that destination guidance is possible for all addresses.
7. If necessary, "Store".
8. "Store contact in vehicle"
Specifying the home address
A home address can be stored. It appears at the top of the contact list.
1. "Home"
2. Create a contact.
3. "Store contact in vehicle"
See also:
Automatic deactivation of the front passenger airbags
The system determines whether the front passenger seat is occupied by measuring the resistance of the human body. The front, knee, and side airbag on the front passenger side are activated or d ...
Tilt alarm sensor
The tilt of the vehicle is monitored. The alarm system responds in situations such as attempts to steal a wheel or when the car is towed. ...
Switch off the engine during longer stops
Switch off the engine during longer stops, e.g., at traffic lights, railroad crossings or in traffic congestion. Fuel savings are achieved after the vehicle is switched off for only approx. 4 s ...