New contact
General information
A contact can have up to 8 phone numbers, 2 addresses, 3 e-mail addresses and one Internet address.
1. "Office"
2. "Contacts"
3. "Options" Open.
4. "New contact"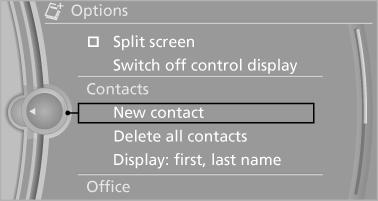 5. The entry fields are still filled with the previous entries: "Delete input fields"
6. Fill in the entry fields: select the symbol next to the entry field.
7. Enter the text and assign the contact type.
8. In the navigation system: enter address.
Only addresses contained in the navigation data in the vehicle can be entered. This ensures that destination guidance is possible for all addresses.
If necessary, "Accept address".
9. "Store contact in vehicle"
Contact types
Various contact types can be assigned to phone numbers and addresses.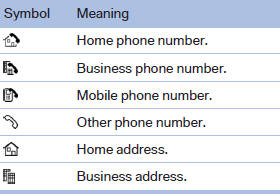 Specifying the home address
A home address can be stored. It appears at the top of the contact list.
1. "Home"
2. Create a contact.
3. "Store contact in vehicle"
See also:
Sound output
Switching on/off When the ignition is switched off: press ON/OFF button on the radio. Muting When the ignition is switched on or the engine is running: press the ON/OFF button on the radio. ...
Notes
▷ Reception may not be available in some situations, such as under certain environmental or topographic conditions. The satellite radio has no influence on this. ▷ The signal may no ...
Continuing destination guidance
If the destination was not reached during the last trip, destination guidance can be resumed. "Resume guidance" ...