New contact
General information
A contact can have up to 8 phone numbers, 2 addresses, 3 e-mail addresses and one Internet address.
1. "Office"
2. "Contacts"
3. "Options" Open.
4. "New contact"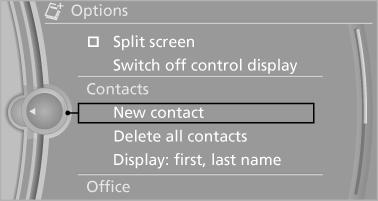 5. The entry fields are still filled with the previous entries: "Delete input fields"
6. Fill in the entry fields: select the symbol next to the entry field.
7. Enter the text and assign the contact type.
8. In the navigation system: enter address.
Only addresses contained in the navigation data in the vehicle can be entered. This ensures that destination guidance is possible for all addresses.
If necessary, "Accept address".
9. "Store contact in vehicle"
Contact types
Various contact types can be assigned to phone numbers and addresses.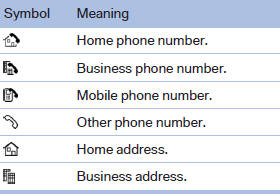 Specifying the home address
A home address can be stored. It appears at the top of the contact list.
1. "Home"
2. Create a contact.
3. "Store contact in vehicle"
See also:
Radio
FM AM Satellite radio Presets ...
Active seat ventilation, front
The seat cushion and backrest surfaces are cooled by means of integrated fans. The ventilation rapidly cools the seat, e. g., if the vehicle interior is overheated or for continuous cooling at ...
Tow-starting, towing away
Observe the applicable laws and regulations for tow-starting and towing vehicles. Do not transport any passengers other than the driver in a vehicle that is being towed. Using a tow fittingThe ...