Phone book
Displays
The phone book accesses the contacts and shows all contacts for which a phone number has been stored. The entries can be selected to make a call.
1. "Telephone"
2. "Phone book"
A symbol indicates the storage location of the contacts.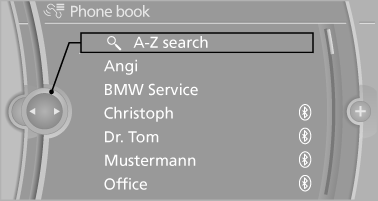 Calling a contact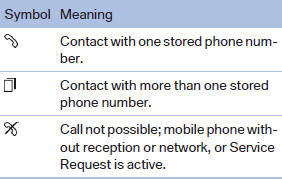 For contacts with one stored phone number: select the required contact. The connection is established.
For contacts with more than one stored phone number: select the required contact and the phone number. The connection is established.
Editing a contact
Changing the entries in "Contacts". When a contact is changed, the changes are not stored on the mobile phone. A copy of the entry is stored in the vehicle.
1. Highlight the contact.
2. Open "Options".
3. "Edit entry" The contact can be edited.
See also:
Adaptive brake assistant
In combination with the Active Cruise Control, this system ensures that the brakes respond even more rapidly when braking in critical situations. Refer also to Collision warning ...
Malfunction
In the event of a malfunction, the steering wheel must be turned further, while the vehicle responds more sensitively to steering wheel movements in the higher speed range. The stability-enhanc ...
View of an opened menu
When a menu is opened, it generally opens with the panel that was last selected in that menu. To display the first panel of a menu: ▷ Move the controller to the left repeatedly until the ...