Calls with multiple participants
General information
You can switch between calls or connect two calls to a single conference call. These functions must be supported by the mobile phone and service provider.
Accepting a call while speaking to another party
This function might have to be activated by the service provider and the mobile phone must be adjusted accordingly.
If a second call comes in during an ongoing call, a call waiting signal is sounded where appropriate.

"Accept"
The call is accepted and the existing call is put on hold.
Establishing a second call
Establish an additional call during an active call.
1. "Telephone"
2. "Active calls"
3.

"Hold"
The existing call is put on hold.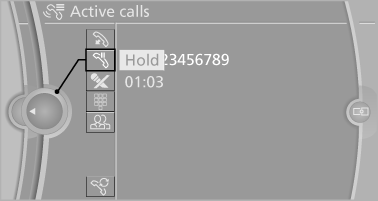 4. Dial the new phone number or select it from a list

"Return"
The call on hold is resumed.
Switching between two calls, hold call
The active call is displayed in color.
The call on hold is displayed in gray.

"Swap calls"
The call on hold is resumed.
Establishing a conference call
Two calls can be connected to a single telephone conference call.
1. Establish two calls.
2.

"Conference call"
When terminating a conference call, both calls are ended. If one call is terminated by another party, the other call can be continued.
See also:
Snow chains
Only certain fine-link snow chains have been tested by BMW, classified as safe for use and recommended. Consult your BMW center for more information. Snow chains must be mounted in pairs and on th ...
Reference
This chapter contains technical data, short commands for the voice activation system, and an index that will quickly take you to the information you need. ...
Example: playing back a CD
1. Switch on the Entertainment sound output if necessary. 2. Press the button on the steering wheel. 3. ЫC D and multimediaЛ The medium last played is played back. 4. ЫC D track ...Л e.g., CD t ...