Display

The driving distance or the time to the next service is displayed briefly after the ignition is switched on.
The current service requirements can be read out from the remote control by the service specialist.
Data regarding the maintenance status or legally mandated inspections of the vehicle are automatically transmitted to your service center before a service due date, Automatic Service Request
Detailed information on service requirements
More information on the scope of service required can be displayed on the Control Display.
1. "Vehicle Info"
2. "Vehicle status"
3.

"Service required"
Required maintenance procedures and legally mandated inspections are displayed.
4. Select an entry to call up detailed information.
Symbols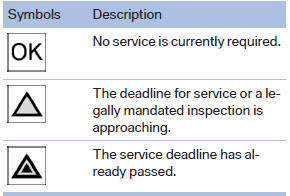 See also:
BMW X5
The clothes hooks are located at the grab handles in the rear. ...
One lever for all functions
One lever for all functions 1 Storing and increasing the desired speed 2 Storing and red 3 Interrupting or deactivating the system 4 Retrieving the stored desired speed and distance or driv ...
BMW Info
Starting destination guidance 1. Select the desired message. 2. "Start guidance" or "Add as another destination" Dialing the number in the message Up to 4 phone numbers c ...