Display

The driving distance or the time to the next service is displayed briefly after the ignition is switched on.
The current service requirements can be read out from the remote control by the service specialist.
Data regarding the maintenance status or legally mandated inspections of the vehicle are automatically transmitted to your service center before a service due date, Automatic Service Request
Detailed information on service requirements
More information on the scope of service required can be displayed on the Control Display.
1. "Vehicle Info"
2. "Vehicle status"
3.

"Service required"
Required maintenance procedures and legally mandated inspections are displayed.
4. Select an entry to call up detailed information.
Symbols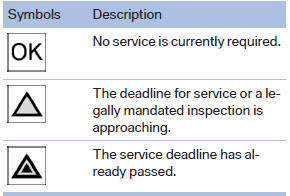 See also:
Deactivating HDC
Press the button again; the LED goes out. HDC is automatically deactivated above approx. 37 mph/60 km/h. ...
Text messages
Text messages at the upper edge of the Control Display explain the meaning of the displayed indicator and warning lamps. ...
Instrument cluster, electronic displays
1 Symbols and messages, e.g., warnings 2 Range 3 Computer 4 Navigation display Service display 5 Selection list, e.g., radio 6 Transmission displays ...