Display

The driving distance or the time to the next service is displayed briefly after the ignition is switched on.
The current service requirements can be read out from the remote control by the service specialist.
Data regarding the maintenance status or legally mandated inspections of the vehicle are automatically transmitted to your service center before a service due date, Automatic Service Request
Detailed information on service requirements
More information on the scope of service required can be displayed on the Control Display.
1. "Vehicle Info"
2. "Vehicle status"
3.

"Service required"
Required maintenance procedures and legally mandated inspections are displayed.
4. Select an entry to call up detailed information.
Symbols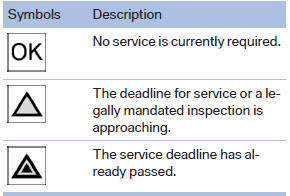 See also:
Snow chains
Only certain fine-link snow chains have been tested by BMW, classified as safe for use and recommended. Consult your BMW center for more information. Snow chains must be mounted in pairs and on th ...
Displaying contacts
1. "Contacts" 2. "My contacts" Displaying contacts All contacts are listed in alphabetical order. Depending on the number of contacts, an A-Z search is offered A symbol i ...
The concept
DSC prevents traction loss in the driving wheels when driving away and accelerating. DSC also recognizes unstable vehicle conditions, such as fishtailing or nose-diving. Subject to physical lim ...