Engaging the transmission position
▷ Transmission position P can only be disengaged if the engine is running and the brake pedal is pressed.
▷ With the vehicle stationary, press on the brake pedal before shifting out of P or N; otherwise, the shift command will not be executed: shift lock.

Depress the brake until you start driving
To prevent the vehicle from creeping after you select a driving position, maintain pressure on the brake pedal until you are ready to start.◀
Engaging D, R and N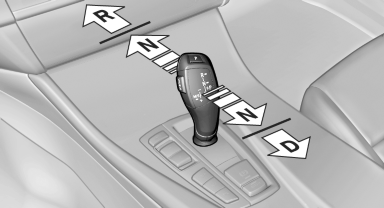 Briefly push the selector lever in the desired direction, beyond a resistance point if necessary.
After releasing the selector lever, it returns to its center position.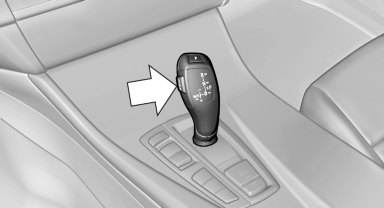 Press unlock button, in order to:
▷ Engage R.
▷ Shift out of P.
Engaging P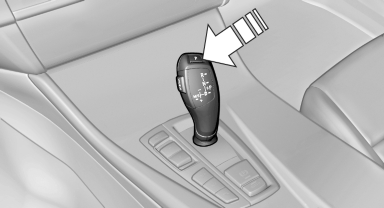 Press button P.
See also:
Even more entertainment at the wheel: with BMW Live and BMW Online
Subject to owning a suitable internet-compatible mobile phone and arranging a requisite data tariff, new BMW 3-Series Sedan customers can enjoy a selection of services from the existing BMW Online ...
Settings and playback functions for audio CDs
1. Select "SET". 2. Press the button. Settings and playback functions for audio CDs 3. Make the settings with the remote control: ▷ "Tone": ▷ "Treble / B ...
Changing between panels
After a menu item is selected, e.g., "Radio", a new panel is displayed. Panels can overlap. ▷ Move the controller to the left. The current panel is closed and the previous panel ...