Engaging the transmission position
▷ Transmission position P can only be disengaged if the engine is running and the brake pedal is pressed.
▷ With the vehicle stationary, press on the brake pedal before shifting out of P or N; otherwise, the shift command will not be executed: shift lock.

Depress the brake until you start driving
To prevent the vehicle from creeping after you select a driving position, maintain pressure on the brake pedal until you are ready to start.◀
Engaging D, R and N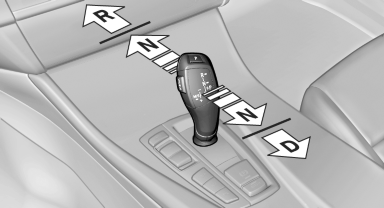 Briefly push the selector lever in the desired direction, beyond a resistance point if necessary.
After releasing the selector lever, it returns to its center position.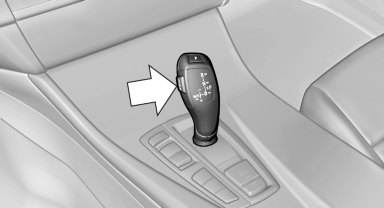 Press unlock button, in order to:
▷ Engage R.
▷ Shift out of P.
Engaging P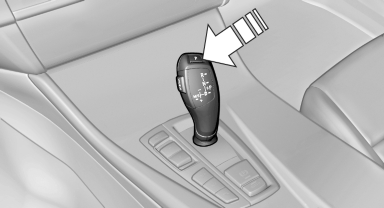 Press button P.
See also:
Special destinations
You can search for a special destination, e.g. a hotel or place of interest, and start destination guidance to the corresponding location. The scope of information provided depends on the partic ...
Opening/closing the glass sunroof andsliding visor together
Briefly press the switch twice in succession in the desired direction past the resistance point. The glass sunroof and sliding visor move together. Pressing the switch again stops the motion ...
Integrated key
Press the button on the back of the remote control, arrow 1, and pull out the key, arrow 2. The integrated key fits the following locks: ► Driver's door. ► Glove compartment on t ...