Components of the integrated Owner's Manual
The integrated Owner's Manual consists of three parts, which offer various levels of information or access possibilities.
Quick Reference Guide
Located in the Quick Reference is important information for the operation of the vehicle, the operation of basic vehicle functions or for what to do in the event of a flat tire. This information can also be displayed during driving.
Search by pictures
Information and descriptions based on illustrations can be searched via search by pictures.
This is helpful, for example, if the description of an outfitting package that cannot be named is needed.
Owner's Manual
Information and descriptions can be searched by direct entry of a search term via the index.
Select components
1.

Press the button.
2. Turn the controller: open "Vehicle Info".
3. Press the controller.
4. Selecting desired range:
▷ "Quick reference"
▷ "Search by pictures"
▷ "Owner's Manual"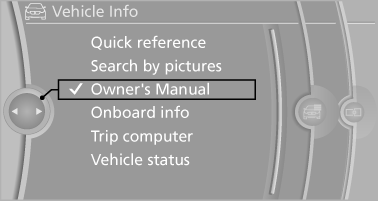 Select components
See also:
Comfort function
▷ Press the switch twice with the sunroof open: The sunroof is raised. ▷ When the sunroof is raised, briefly press the switch twice in the opening direction: The sunroof is opene ...
Adjusting electrically
Adjusting electrically 1. Forward/backward 2. Height 3. Seat tilt Backrest 4. Backrest Differs depending on seat: Differs depending on seat 1. Backrest 2. Height Additional depending o ...
The ultimate in personalization: BMW Sport Line and BMW Urban Line make their debut
The exclusive new BMW Sport Line and BMW Urban Line of interior and exterior equipment help to show off the high-tech, dynamic facets of the new BMW 1-Series to best advantage. The BMW Sport Lin ...