Components of the integrated Owner's Manual
The integrated Owner's Manual consists of three parts, which offer various levels of information or access possibilities.
Quick Reference Guide
Located in the Quick Reference is important information for the operation of the vehicle, the operation of basic vehicle functions or for what to do in the event of a flat tire. This information can also be displayed during driving.
Search by pictures
Information and descriptions based on illustrations can be searched via search by pictures.
This is helpful, for example, if the description of an outfitting package that cannot be named is needed.
Owner's Manual
Information and descriptions can be searched by direct entry of a search term via the index.
Select components
1.

Press the button.
2. Turn the controller: open "Vehicle Info".
3. Press the controller.
4. Selecting desired range:
▷ "Quick reference"
▷ "Search by pictures"
▷ "Owner's Manual"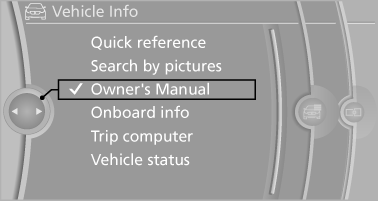 Select components
See also:
Saving fuel
General information Your vehicle contains advanced technology for the reduction of fuel consumption and emissions. Fuel consumption depends on a number of different factors. The implementation ...
Gas station recommendation
The remaining range is calculated, and if necessary gas stations along the route are displayed. 1. "Navigation" 2. "Route information" 3. "Recommended refuel" A lis ...
The concept
Two radar sensors below the rear bumper monitor the area behind and next to the vehicle at speeds above approx. 30 mph/50 km/h. The system indicates whether there are vehicles in the blind sp ...