Tow fitting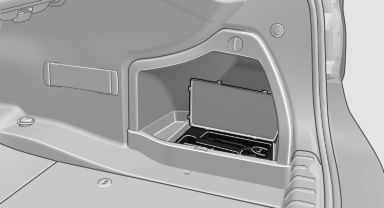 Tow fitting
The screw-in tow fitting should always be carried in the vehicle. It can be screwed in at the front or rear of the BMW. It is in the onboard vehicle tool kit located in a storage compartment on the right side in the cargo area. Open the cover.

Tow fitting, information on use
▷ Use only the tow fitting provided with the vehicle and screw it all the way in.
▷ Use the tow fitting for towing on paved roads only.
▷ Avoid lateral loading of the tow fitting, e.g., do not lift the vehicle by the tow fitting.
Otherwise, damage to the tow fitting and the vehicle can occur.
See also:
Tilt alarm sensor
The tilt of the vehicle is monitored. The alarm system responds in situations such as attempts to steal a wheel or when the car is towed. ...
Camera monitoring: Lane Departure Warning System and Collision Warning
The Lane Departure Warning System available for the new BMW 3-Series Sedan is activated at speeds above 70 km/h (43 mph) and warns the driver if he unintentionally strays out of his lane. The syst ...
Status field
The following information is displayed in the status field at the top right: Time. Current entertainment source. Sound output, on/off. Wireless network reception strength. Telephone stat ...