Tow fitting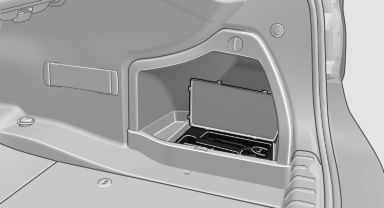 Tow fitting
The screw-in tow fitting should always be carried in the vehicle. It can be screwed in at the front or rear of the BMW. It is in the onboard vehicle tool kit located in a storage compartment on the right side in the cargo area. Open the cover.

Tow fitting, information on use
▷ Use only the tow fitting provided with the vehicle and screw it all the way in.
▷ Use the tow fitting for towing on paved roads only.
▷ Avoid lateral loading of the tow fitting, e.g., do not lift the vehicle by the tow fitting.
Otherwise, damage to the tow fitting and the vehicle can occur.
See also:
Tilt alarm sensor
The tilt of the vehicle is monitored. The alarm system responds in situations such as attempts to steal a wheel or when the car is towed. ...
Welcome lamps
When parking the vehicle, leave the switch in position or the parking and interior lamps light up briefly when the vehicle is unlocked. Activating/deactivating 1. "Settings" 2. &qu ...
General information
The engine oil consumption is dependent on the driving style and driving conditions. Therefore, check the engine oil level after every refueling using the electronic engine oil level check. ...