Tow fitting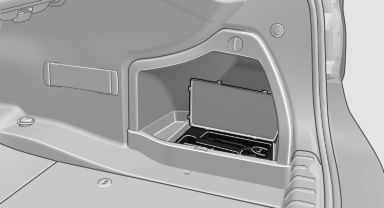 Tow fitting
The screw-in tow fitting should always be carried in the vehicle. It can be screwed in at the front or rear of the BMW. It is in the onboard vehicle tool kit located in a storage compartment on the right side in the cargo area. Open the cover.

Tow fitting, information on use
▷ Use only the tow fitting provided with the vehicle and screw it all the way in.
▷ Use the tow fitting for towing on paved roads only.
▷ Avoid lateral loading of the tow fitting, e.g., do not lift the vehicle by the tow fitting.
Otherwise, damage to the tow fitting and the vehicle can occur.
See also:
High-beam Assistant
The concept When the low beams are switched on, this system automatically switches the high beams on and off or suppresses the light in the areas that blind oncoming traffic. The procedure is cont ...
Automatic Hold
The concept This system assists the driver by automatically setting and releasing the brake, such as when moving in stop-and-go traffic. The vehicle is automatically held in place when it is s ...
DSC Dynamic StabilityControl
The concept DSC prevents traction loss in the driving wheels when driving away and accelerating. DSC also recognizes unstable vehicle conditions, such as fishtailing or nose-diving. Subject to ...