New contact
General information
A contact can have up to 8 phone numbers, 2 addresses, 3 e-mail addresses and one Internet address.
1. "Office".
2. "Contacts".
3. "Options" Open.
4. "New contact"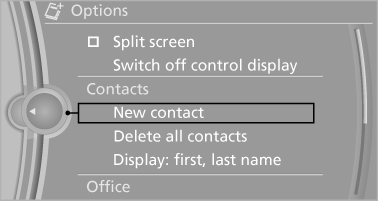 5. The entry fields are still filled with the previous entries: "Delete input fields".
6. Fill in the entry fields: select the symbol next to the entry field.
7. Enter the text and assign the contact type.
8. In the navigation system: enter address.
Only addresses contained in the navigation data in the vehicle can be entered. This ensures that destination guidance is possible for all addresses.
If necessary, "Accept address".
9. "Store contact in vehicle"
Contact types
Various contact types can be assigned to phone numbers and addresses.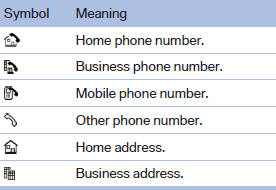 Specifying the home address
A home address can be stored. It appears at the top of the contact list.
1. "Home".
2. Create a contact.
3. "Store contact in vehicle"
See also:
Playback
1. Switch on the external device and start the playback. 2. Open the start menu with the remote control. 3. Select "AUX". 4. Press the button. Playback For devices without a vide ...
Using this Owner's Manual
The fastest way to find information on a particular topic is by using the index. An initial overview of the vehicle is provided in the first chapter. Updates made after the editorial deadline ...
Brake Force Display
On the left: normal braking. On the right: sharp braking. When the rear fog lampsare switched on, the Brake Force Display is not active and the illuminated area for normal braking is reduced by a ...