New contact
General information
A contact can have up to 8 phone numbers, 2 addresses, 3 e-mail addresses and one Internet address.
1. "Office".
2. "Contacts".
3. "Options" Open.
4. "New contact"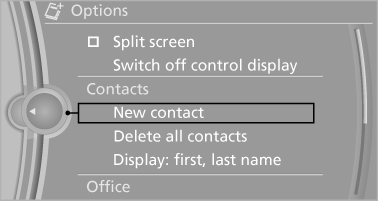 5. The entry fields are still filled with the previous entries: "Delete input fields".
6. Fill in the entry fields: select the symbol next to the entry field.
7. Enter the text and assign the contact type.
8. In the navigation system: enter address.
Only addresses contained in the navigation data in the vehicle can be entered. This ensures that destination guidance is possible for all addresses.
If necessary, "Accept address".
9. "Store contact in vehicle"
Contact types
Various contact types can be assigned to phone numbers and addresses.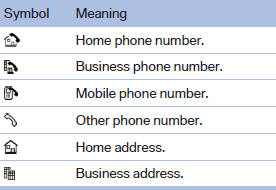 Specifying the home address
A home address can be stored. It appears at the top of the contact list.
1. "Home".
2. Create a contact.
3. "Store contact in vehicle"
See also:
Towing other vehicles
General information Light towing vehicle Your vehicle must not be lighter than the vehicle being towed; otherwise, it will not be possible to control vehicle response. Attaching the tow bar/t ...
Functional requirements
The system must have been initialized when the tire inflation pressure was correct; otherwise, reliable signaling of a flat tire is not ensured. Initialize the system after each correction of th ...
The concept
The automatic engine start-stop function helps save fuel. The system switches off the engine during a stop, e. g., in a traffic congestion or at traffic lights. The ignition remains switched on. ...