New contact
General information
A contact can have up to 8 phone numbers, 2 addresses, 3 e-mail addresses and one Internet address.
1. "Office".
2. "Contacts".
3. "Options" Open.
4. "New contact"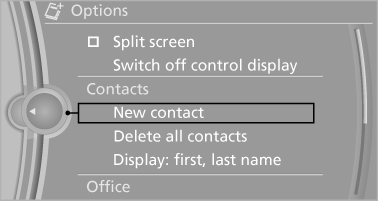 5. The entry fields are still filled with the previous entries: "Delete input fields".
6. Fill in the entry fields: select the symbol next to the entry field.
7. Enter the text and assign the contact type.
8. In the navigation system: enter address.
Only addresses contained in the navigation data in the vehicle can be entered. This ensures that destination guidance is possible for all addresses.
If necessary, "Accept address".
9. "Store contact in vehicle"
Contact types
Various contact types can be assigned to phone numbers and addresses.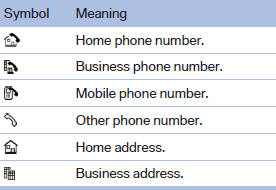 Specifying the home address
A home address can be stored. It appears at the top of the contact list.
1. "Home".
2. Create a contact.
3. "Store contact in vehicle"
See also:
Tow fitting
The screw-in tow fitting should always be carried in the vehicle. It can be screwed in at the front or rear of the BMW. It is stored with the tool kit under the cargo floor cover in the cargo a ...
Adjusting the height: electrical
The head restraints on the left and right rear passenger seats extend automatically whenever a passenger in the rear seat fastens his or her safety belt. In addition, the height of the head r ...
Variable sport steering
The variable sport steering increases the steering angle of the front wheels at large steering wheel angles, e.g., in tight curves or when parking. Steering becomes more direct. It also varies ...