New contact
General information
A contact can have up to 8 phone numbers, 2 addresses, 3 e-mail addresses and one Internet address.
1. "Office".
2. "Contacts".
3. "Options" Open.
4. "New contact"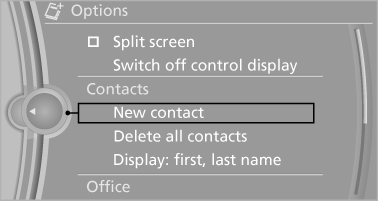 5. The entry fields are still filled with the previous entries: "Delete input fields".
6. Fill in the entry fields: select the symbol next to the entry field.
7. Enter the text and assign the contact type.
8. In the navigation system: enter address.
Only addresses contained in the navigation data in the vehicle can be entered. This ensures that destination guidance is possible for all addresses.
If necessary, "Accept address".
9. "Store contact in vehicle"
Contact types
Various contact types can be assigned to phone numbers and addresses.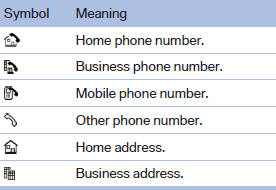 Specifying the home address
A home address can be stored. It appears at the top of the contact list.
1. "Home".
2. Create a contact.
3. "Store contact in vehicle"
See also:
Pressure specifications
The tire inflation pressure table, refer to page 238, contains all pressure specifications for the specified tire sizes at the ambient temperature. Pressure specifications apply to approved tire ...
Malfunction
Comfort Access may not function properly if it experiences interference from external sources such as mobile phones, metal objects, overhead power lines, transmission towers, etc. If this occur ...
Pedestrian detection
The pedestrian detection and warning system only operates in darkness and only when a heat image is displayed. Warm objects that are similar in shape to human beings are detected by the syste ...