Received calls
Displaying calls
The list of incoming calls on the mobile phone is transmitted to the vehicle, depending on the mobile phone. The 20 telephone calls that were last received are displayed. The sorting order and display of the phone numbers depend on the particular mobile phone.
1. "Telephone".
2. "Received calls"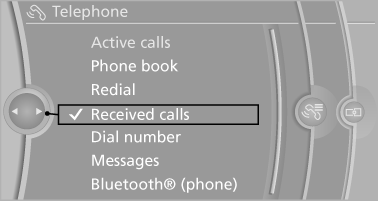 Calling a number from the list
Selecting an entry.
The connection is established.
Deleting a single entry or all entries
The erasure of entries depends on the mobile phone.
1. Highlight the entry.
2. "Options" Open.
3. "Delete entry" or"Delete list"
Saving an entry in the contacts
1. Highlight the entry.
2. "Options" Open.
3. "Store as new contact" or "Add to existing contact".
4. Select the contact, if necessary.
5. Select the type of number: "Home", "Business", "Mobile" or "Other" 6. Complete the entries if necessary.
7. "Store contact"
See also:
General information
The sound settings are stored for the remote control currently in use. ...
Sockets
The lighter socket can be used as a socket for electrical equipment while the engine is running or when the ignition is switched on. The total load of all sockets must not exceed 140 watt at 1 ...
What to do if...
▷ The current transmission position cannot be displayed? The vehicle is located in an unrecognized region, is in a poor reception area, or the system is currently determining the position ...