Received calls
Displaying calls
The list of incoming calls on the mobile phone is transmitted to the vehicle, depending on the mobile phone. The 20 telephone calls that were last received are displayed. The sorting order and display of the phone numbers depend on the particular mobile phone.
1. "Telephone".
2. "Received calls"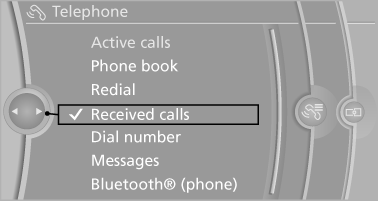 Calling a number from the list
Selecting an entry.
The connection is established.
Deleting a single entry or all entries
The erasure of entries depends on the mobile phone.
1. Highlight the entry.
2. "Options" Open.
3. "Delete entry" or"Delete list"
Saving an entry in the contacts
1. Highlight the entry.
2. "Options" Open.
3. "Store as new contact" or "Add to existing contact".
4. Select the contact, if necessary.
5. Select the type of number: "Home", "Business", "Mobile" or "Other" 6. Complete the entries if necessary.
7. "Store contact"
See also:
Automatic deactivation of the front passenger airbags
The system determines whether the front passenger seat is occupied by measuring the resistance of the human body. The front, knee, and side airbag on the front passenger side are activated or d ...
Indicator and warning lamps
The concept Indicator and warning lamps can light up in a variety of combinations and colors. Several of the lamps are checked for proper functioning and light up temporarily when the engine is st ...
The concept
▷ The mobile phone can be operated without taking your hands from the steering wheel. ▷ In many cases, the entries are accompanied by announcements or questions. ▷ ›...‹ Verbal ...