Engaging the transmission position
▷ Transmission position P can only be disengaged if the engine is running and the brake pedal is pressed.
▷ With the vehicle stationary, press on the brake pedal before shifting out of P or N; otherwise, the shift command will not be executed: shift lock.

Depress the brake until you start driving
To prevent the vehicle from creeping after you select a driving position, maintain pressure on the brake pedal until you are ready to start.
Engaging D, R and N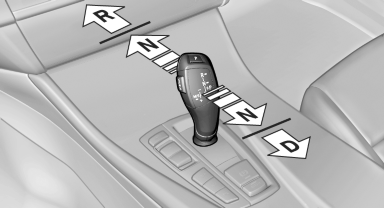 Engaging D, R and N
Briefly push the selector lever in the desired direction, beyond a resistance point if necessary.
After releasing the selector lever, it returns to its center position.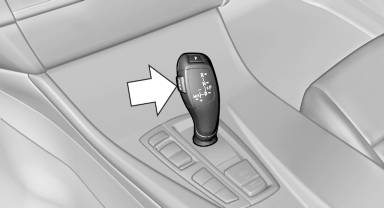 Press unlock button, in order to:
▷ Engage R.
▷ Shift out of P.
Engaging P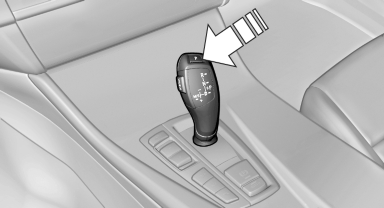 Engaging P
Press button P.
See also:
Camera
Camera The camera is located near the base of the mirror. Keep windshield clean and clear in the area in front of the interior rear view mirror. ...
Interior
The four-seat interior incorporates a shelved dashboard that houses the navigation display without adding an extra hump in the center, as many BMW dashboards do. Metallic rings grace the dual-zone ...
Contacts
...