Engaging the transmission position
▷ Transmission position P can only be disengaged if the engine is running and the brake pedal is pressed.
▷ With the vehicle stationary, press on the brake pedal before shifting out of P or N; otherwise, the shift command will not be executed: shift lock.

Depress the brake until you start driving
To prevent the vehicle from creeping after you select a driving position, maintain pressure on the brake pedal until you are ready to start.
Engaging D, R and N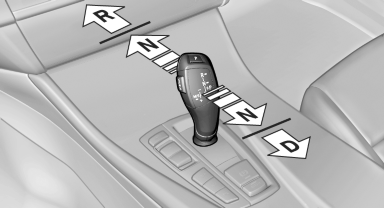 Engaging D, R and N
Briefly push the selector lever in the desired direction, beyond a resistance point if necessary.
After releasing the selector lever, it returns to its center position.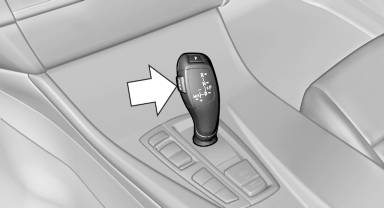 Press unlock button, in order to:
▷ Engage R.
▷ Shift out of P.
Engaging P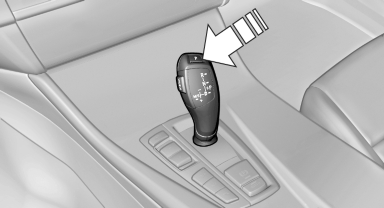 Engaging P
Press button P.
See also:
Ultrasound sensors
Ultrasound sensors The ultrasound sensors for measuring parking spaces are located on the wheel arches. To ensure full operability: ▷ Keep the sensors clean and free of ice. ▷ When ...
Tail lamps, bulb replacement
At a glance 1 Turn signal 2 Backup lamp 3 Inside brake lamp 4 Tail lamp 5 Tail lamp/brake light Turn signal, tail lamp and brake lamp Follow the general instructions on lamps and bulbs. 21- ...
System limits
The maximum recording range of the camera is 330 ft/100 m. Display The images from both cameras are shown simultaneously on the Control Display. Check the traffic situation as well Check the ...