Engaging the transmission position
▷ Transmission position P can only be disengaged if the engine is running and the brake pedal is pressed.
▷ With the vehicle stationary, press on the brake pedal before shifting out of P or N; otherwise, the shift command will not be executed: shift lock.

Depress the brake until you start driving
To prevent the vehicle from creeping after you select a driving position, maintain pressure on the brake pedal until you are ready to start.
Engaging D, R and N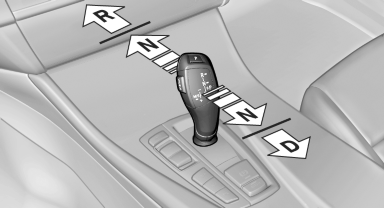 Engaging D, R and N
Briefly push the selector lever in the desired direction, beyond a resistance point if necessary.
After releasing the selector lever, it returns to its center position.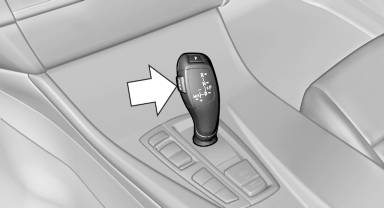 Press unlock button, in order to:
▷ Engage R.
▷ Shift out of P.
Engaging P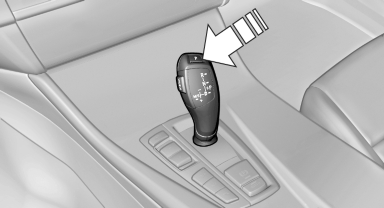 Engaging P
Press button P.
See also:
Fold-out position of the wipers
Required when changing the wiper blades or under frosty conditions, for example. 1. Switch off the ignition. 2. Under frosty conditions, ensure that the wiper blades are not frozen onto the wind ...
Wheels and tyres
The new BMW 3-Series Sedans are factory-fitted with attractively styled, high-quality alloy wheels. The BMW 335i and BMW 328i run on 17-inch Star-spoke wheels carrying 225/50 R17 tyres. The BMW 32 ...
Ventilation in rear, center
Thumbwheels* for adjusting the temperature, arrows 1. Toward blue: colder. Toward red: warmer. Lever for changing the air flow direction, arrow 2. Thumbwheels for opening and closin ...